There is no use pretending. I can't deny it. I hate Halloween. I would be totally fine without it happening. Ever. Again.
Here is a list of why Halloween isn't so bad.
1. I love candy
2. Sometimes Halloween decorations can be cute and fun.
3. Little kids dressed up is adorable.
4. I love candy.
Here is a list of why Halloween isn't my favorite.
1. It's creepy. (I once saw someone's front yard decorated with a grave yard of baby dolls. Nothankyou.)
2. Witches are yucky.
3. Going door-to-door asking strangers for candy just isn't very safe.
4. Costumes for women don't contain much fabric.
5. "Haunted" anything freaks me out.
I must admit; Pottery Barn and Zgallerie know how to turn my disdain into…well…a little less disdain.
Check out their Halloween goodies!
Black feather wreath
….I can handle that!
I also totally love the orange door. Not that I would ever paint my front door orange just for halloween. Never. But if you just happen to have an orange door than, please, put a black feather wreath on it!
I don't like pumpkins
…I don't like when they have faces, I don't like when they are in pie form. I just don't like pumpkins.
But how is this for a DIY project? Spray paint (or silver leaf) those pumpkins and look how glamorous they can look! I could really get into that kind of pumpkin.
No one likes spiders. But I happen to think these are too cute in this round little glass. Using these and the silver pumpkins as a center piece could be so so adorable. I would totally do it….if I decorated for halloween.
I don't know about you but nothing says "halloween" to me more than a skull.
I usually steer very very clear of skulls. But ZGallerie hit the nail on the head (no pun intended…) with this crystal coated one. I would almost buy this. Almost.
Now for some décor that you can use not only for halloween, but year round!
This chandilier sconce sings my song big time! I love it.
Imagine how it would look if you draped some of those fake spider webs on it for Halloween! Instantly spooky.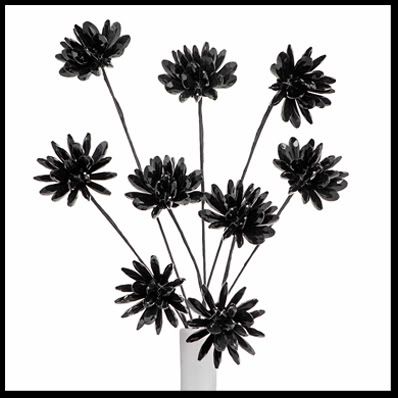 They have kind of an eerie look to them, no? I don't know about you, but I would defintiely keep them around all year!