Hello Readers (do I have any?!)!
I think I should start off with why I decided to start a blog. I love lists. Of all kinds. So here is a list of why I decided to start a blog!
1. I love reading blogs. They inspire me!
2. I want to inspire others and I love sharing my ideas
3. I have always wanted to!
Those are good enough reasons, right!?
I will be moving into an apartment in about 2 months, after I get married in January. Aside from planning a wedding, (and being super excited to get married), a lot of my time is spent dreaming of how to make our little two-bedroom apartment feel like a home. It won't be easy but I plan on making it happen!
Ruffles & Such will be mostly about interior design and a whole lot of DIY projects! I'll be posting pictures of my own projects, as well as pictures that I like to drool over.
Like this one: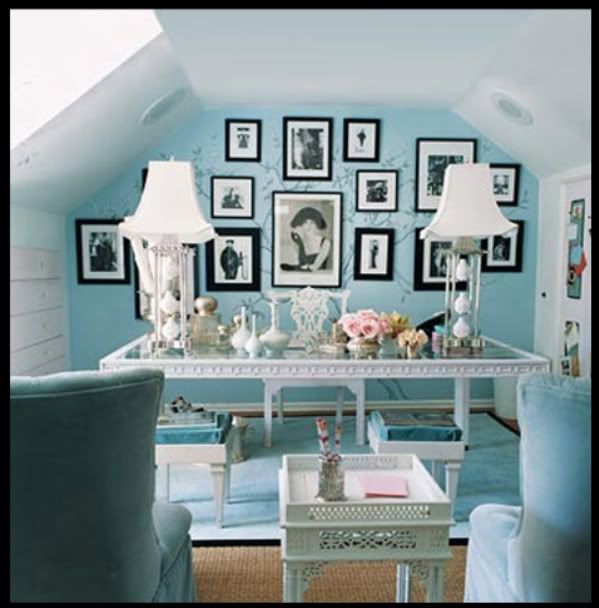 Yes please! My office will look like this someday! I don't know about painting the walls that gorgeous robins egg blue, but I will definitely be using the black and white art in black frames as inspiration for my apartment. Classic! Do I spy Audrey!?
This also flies my kite (are you noticing a theme?):
A black chandelier in a kitchen? I'll take it!
In DIY news:
I am working on a bed. A queen sized, sleigh-style bed. I got it off Craigslist (Love it…but you have to sort through a lot of junk before you find your treasure! Kind of like dating? No? Okay….)
The description of the bed caught my eye right away. It went a little something like this (I might be paraphrasing a little...):
"I have a bed that needs to be sanded and painted…lots of scratches. Looks horrible. A great DIY project for the right person!"
The right person? It's me. I snagged that sucker up. I spent a weekend sanding it and here it is…so far!
Up next? A satiny coat of black paint. It will look delicious. I love a good DIY project. You'll be seeing the next phase soon, along with the list of products and the total cost!
I think that does it for my grand opening post!
Images: Office and Kitchen: Domino (saved them in my inspiration folder a long time ago!)