If I love anything, it's a well decorated room (duh). You know, the kind of room where you can clearly see a "theme" going on. I think that is what most of us miss in our decorating; realizing that some things work together, and some just don't. Having a clear idea of the "feel" and look you want to a room can help you achieve a very put together home! Here are some clearly themed rooms that I adore from Domino.
Country is NOT my thing. I repeat, never has been. It never will be. I hate roosters.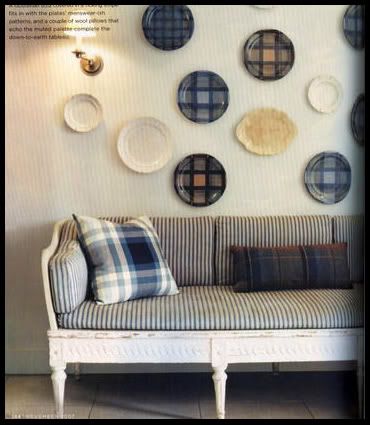 If I had to decorate a room with a country flaire, I would do it like this. Subtle is the key I think. The plaid plates on the wall, and the pillows really give it that hint of country. I could handle that.
How about ultra feminine?
I love girly rooms. So. Much. I am definitely not a pink kinda girl. But this little girl room really does float my boat! If I had little girls their room would totally rock the pale pink and white look.
How do you feel about these retro looks?
I'm not convinced this is a theme I could get into. I love me some brown...but pairing it with yellow and orange really screams "that 70's show" to me.
THIS is the kind of retro I can do. Again, it's about the subtlety. The table, and the chairs give it that retro feel without going overboard. I love.
Do you have a room with a theme? Does your whole house have a certain "feel"? Do tell!