Welcome to Mood Board Mondays! Today I will be featuring my mood board for the "master" bedroom (remember: it's an apartment so by "master bedroom" I just mean that it's a tiiiiny bit smaller than the other room.).
Here it is so far...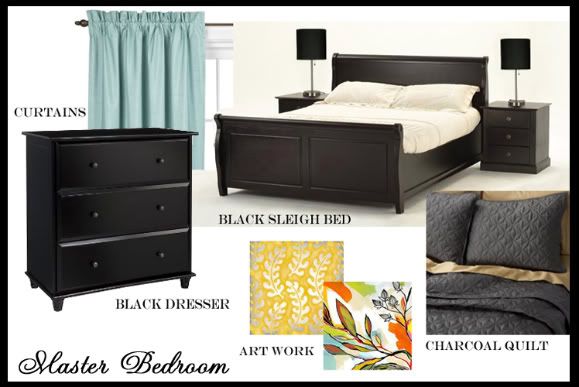 Artwork
: The art pictured is just from Target. I love it but I will probably be painting my own. But it will be something like that and will add some zest and color to the room.
Curtains
: Should I get patterned curtains? Or stick with the solid? I think the blue would look fab with all the black accents.....
Quilt:
My fiancé and I registered for the quilt at Target for our wedding. So hopefully we get it! I think it helps add some masculinity to the room. I really want our bedroom to have a nice balance between overly girly-feminine and bachelor pad. Ya know? Not the easiest thing in the world. But we can find a happy medium...right?
We have all the black furniture already. As you've seen, we have the bed in the midst of a makeover and, while I don't want to give too much away, I have two coats of black paint on it and it looks fabulous. But you'll just have to wait until the big reveal to see it!
-AND-
I have a black armoire/dresser (it looks kind of like the one pictured...) The dresser itself used to be unfinished wood. Painting it was a project of mine a few years ago. It has little faux crystal knobs on it that I found on ebay. They really add to it and make it oh so très chic!
What do you think? Too boring? Have you ever made a mood board? Were you able to take the mood board from inspiration to reality?
Images: All from Target.com