....it's Valentine's Week! It's also my blog debut as a Mrs.! My wedding went wonderfully and I am enjoying my new role as a wife. I am also enjoying re-vamping our apartment! Lots of pictures to come as well as the DIY: Project Bed reveal! I know you have been dying to see it.
To kick off Valentines week, I thought I would post some cute Etsy finds. Can I just say, I love Esty. LOVE. And I cannot wait to get my own shop up and running. Until then I will fulfill your Etsy fantasies and show you come cute Valentines from some equally as cute shops!
There is nothing I love more than a cutie illustration! Love these Valentines from Rosy Designs Online. I'll take them all. Please and thank you.
Did I ever tell you that some people say that I am quirky? As much as I would love to be considered "quirky"... it's just not true. I'm
very
normal. Speaking of quirky…these valentines hit the nail on the head! I love these letter press designs. Check out
this shop
for more than just valentines!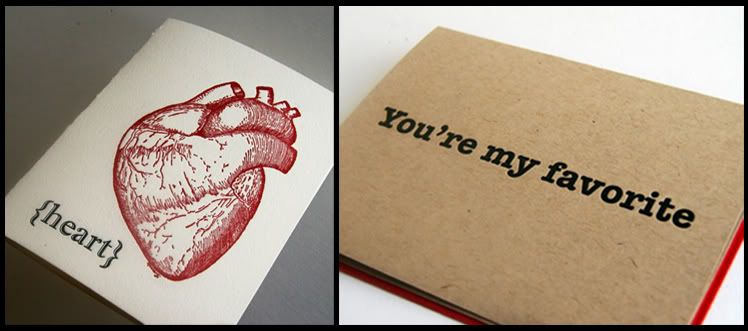 How could you not love these valentines from Red Letter Paper co.? I am crazy about the bible verse valentine! And the super cute "you are here" is so clever I could die.
That wraps it up for day one of Valentine's week! What was the cutest valentines card you ever received? I always love a good Disney Princess one…
p.s I have linked all the Etsy shops that I have written about. Because I am new to the blogging world, any tips on etiquette of linking sites and using pictures would be wonderful! I figure as long as I am giving credit to where it is due than I am okay. Right?