Hello Readers! I must apologize for the delay of new posts. But life is busy! I have no other excuses. My focus has been dreaming and scheming about my (not yet open) Etsy shop and trying to decide what my focus will be. It's NOT easy. But enough of me whining about nothing! Here are Eight Exceptional things that I've been LOVIN' lately!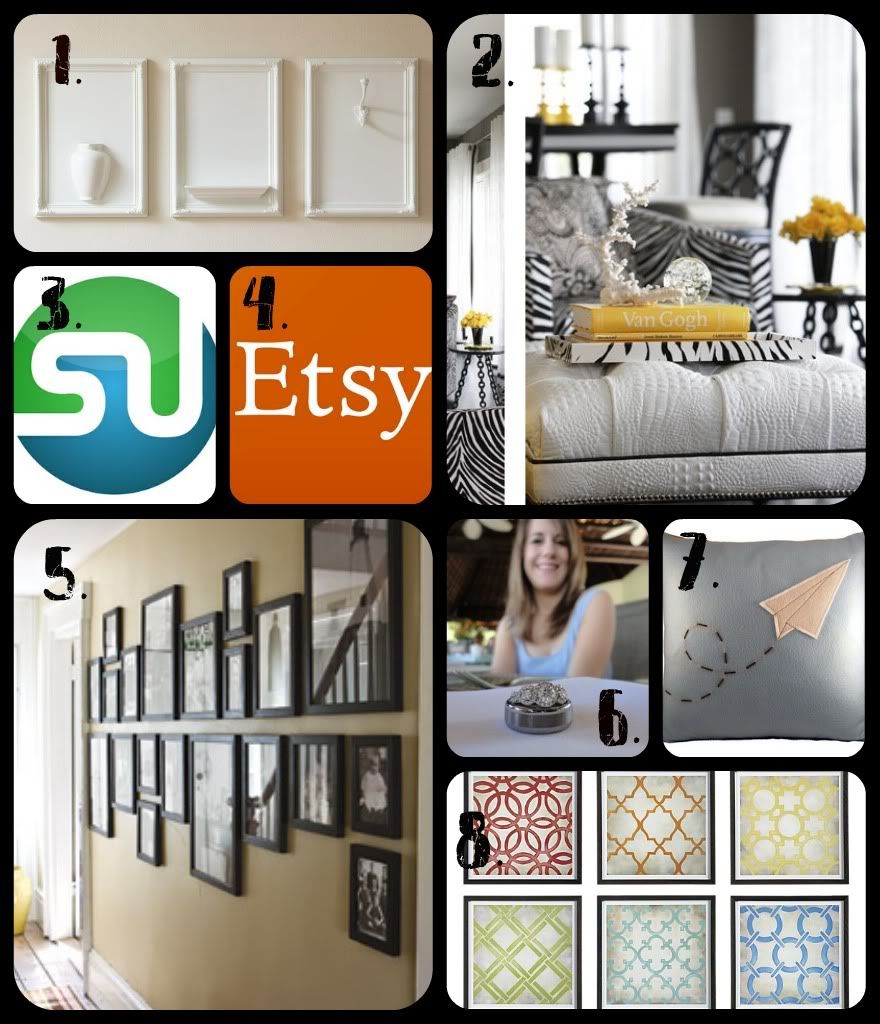 1. DIY inspiration. These have been saved on my computer for a long time and I forget where I saw them! But someday I will recreate them. Wouldn't a set of three different frames, and three different hooks all sprayed white be the cutest?? Or maybe a color like yellow for a bright statement?
2. Black, White, and Yellow. I am just lovin' it! My house is mainly earth tones, with the exception of my bedroom. But someday I'd love to have a living room in black white and yellow. It's so modern and chic!
3.
Stumbleupon.com
It is the most fun way to literally stumble upon OTHER sites that match your interests. Go sign up (FREE) and check the boxes of topics you are interested. I, of course, checked art, craft, interior design. You know...those types of things. Check it out!!!
4. Etsy. Need I say more? I'm in love.
5. This frame arrangement leaves me drooling. I am definitely going to try this (a smaller version for sure) in my family room. I wonder if it will look as good above a couch as it does in this hall way? We shall see!
6. Being married (how could I leave this out!?). LOVIN' it! Especially because I have been sick all weekend and had the best "doctor" ever. My husband is wonderful and I am so grateful for him!
7. Paper airplane inspired decor. Isn't this pillow just the cutest? I love cute things.
8. I think this geometric set of prints is so wonderful. From the colors, to the patterns. It's perfection in my eyes. They are from Crate and Barrel and I am itching to get my hands on them! But $400 to own all of them is a littttle steep even for me! ;) I see a DIY art day in my future!
That wraps it up for my Eight Exceptions Things list! Which one is your favorite? Are you as in love with Etsy as I am? Does anyone have a black, white, and yellow themed room? Do tell!