January 8th 2011 is a day I know that I will remember for the rest of my life! I got married to my most favorite person in the world, and had the wedding of my dreams. I love weddings I wanted to share some tips and lessons that I learned from my wedding, in hopes that I can help those of you who might be in the midst of wedding planning right now. Our 7th month "anniversary" is a week from today, and it's wedding season! What better week to share!?
My wedding took place just three months (almost to the day) after my twin sisters. It was a super fun year of wedding craziness, and I wouldn't change a thing! Things got stressful, busy, and chaotic, but everyone got through it alive. And I have pictures to prove it!
My husband and I were really passionate about having a low cost wedding for a lot of reasons. One is that I believed I could easily have the wedding of my dreams for under $8,000. Some of you might be thinking, "Carly, that's a ton of money!", and it is! For others, it might have not even covered your venue and catering! But for me it was just right, and we definitely came in under the $8,000 mark (and proud of it yo!) Our photography and venue alone ate up more than half of that. But both of those things were the highest on our priority list, and so we were more than willing to pay for them.
Enough talking (err, typing?) let's get into the yummy details! Today, I will showcase our Venue/Ceremony. One, because it was soooo beautiful. Two, because we have to start somewhere folks! The ceremony and reception were held at the church that we both attend (and have attended since 2nd grade for me, and 7th grade for him)! It was really special for Dan and I to have our wedding there.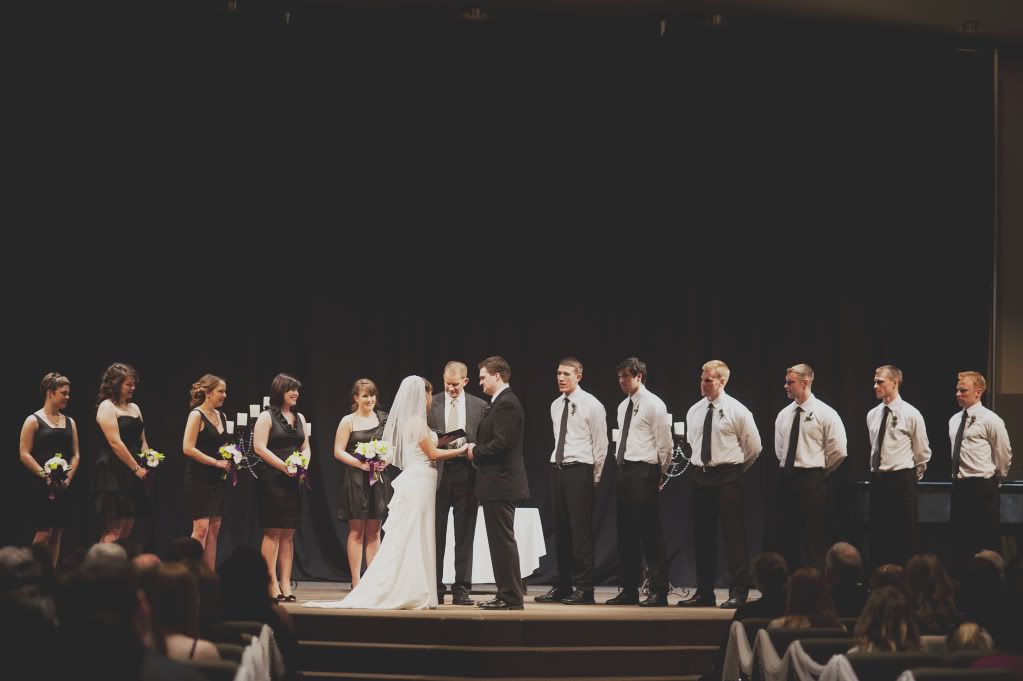 We had our ceremony in the sanctuary, which holds a TON of people. We had about 350 guests attend and there was room to spare! It was nice (and something I realllly wanted) to not to be constricted by a number, and also not to feel crowded, even with 350 guests. Woohoo!
I want to share some of my "saving" tips. I'm, by no means, an expert on budgeting or financial stuff (I leave that to Dan!) but I do have tips when it comes to saving on your wedding. I'll be sharing them throughout this week!
SAVING TIP #1: Prioritize where you spend your money. It's probably one of the best ways to create a budget that you can actually stick to! Set aside more money on the things that you care about the most. It may seem like a "duh" thing. But it is so easy to loose sight of what really matters to you. Don't nickel and dime yourself to death on things that won't make that much of a difference. It will be different for everybody, but for example, I decided to not blow my budget on huge flower arrangements or very many other decorations for the ceremony. It was important for me to have it look nice, but we only spent about 30 minutes in there so I knew I didn't want to go overboard! I knew I wanted to save up most of my budget for the reception décor!
I wanted to make sure the sanctuary still looked "decorated" and not boring, so I just added a few little things!
I used two candelabra type things that the church already had, but to dress them up I used faux crystal strands to make them look oh so glamorous. For the aisle, I used Ikea curtains for "tulle". I hate the stiff wedding tulle that craft and fabric stores sell! I wanted a fabric that was flowy and sheer and these definitely did the trick (and SO cheap at $4.99 for two huge panels!). I also strung the faux crystals with it for a really cohesive look. I ended up loving it and the subtle glamorous touch it added to our ceremony!
I hope you enjoyed the little peek into my favorite day! I will post a list of products, and all the Saving Tips at the end of Wedding Week! Stay tuned for a look at the reception!!!
What were your budgeting tricks for your wedding? Please share and don't hesitate to ask questions!
p.s
All
photos were taken by
Kristen Marie Photography
. Check out her website...she is the best!!!