It's Friday (and in the words of Rebecca Black, "I see my friendssss"....that has nothing to do with this post. It's just my favorite part of the song) and we are ready to wrap up wedding week! It's been
fun fun fun
(get it?)
for me to relive such a great day! But hopefully it was fun, and inspiring to you too!
To wrap up, I thought I'd share all my "paper" stuff. I designed all of them. I'm not a graphic designer, so if you are then, please feel free to not judge me. I decided to design it all myself (with lots of approval, and help from husband and family) because I honestly didn't think I'd ever find something I'd be happy with. I'm so picky, and I didn't want something super traditional.
Let's start with the Save the Date shall we? Our good friend, Jeff took our engagement pictures for us for free! We have great friends. SO we used one for the Save the Date.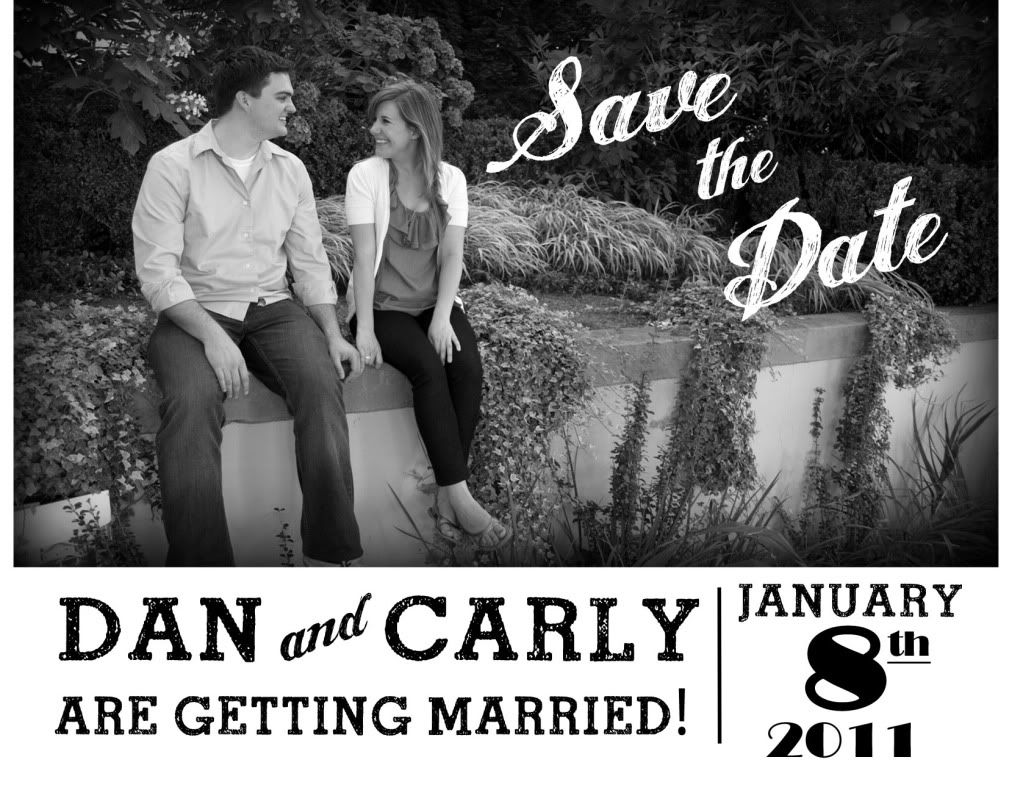 This was a post card, and on the back it just had our wedding website address, and some other info. Easy and simple!
These are our invites. I tied all my paper products together by using the same fonts, colors, and design idea throughout!
I blurred out some of the specifics for privacy. But you get the main idea!
I really wanted something different then the typical wedding invitation. Those of you who are more traditional might be cringing! And that's okay. I have nothing against the traditional invites. I think they are usually really pretty. But this is just what I chose to go with! One thing that I love about weddings is seeing different personalities come through with the choices we make.
Along with the invites I added a post card with directions on how to get to the church, and a nearby hotel address! We did not have RSVP cards, but instead we asked the guests to RSVP by e-mail or through our wedding website. It's 2011 people! We are on the cutting edge! Just kidding...it was really all about saving money for us. Less paper= less money!
Our programs were on glossy card stock, with rounded corners. I glammed it up a little by adding a chandelier graphic in the background. The back of the program just had the typical order of ceremony, and names.
SAVING TIP #5: LOOK FOR DISCOUNT CODES.
When you are ordering paper products online from sites like
Vistaprint
.com or
Overnightprints
.com, there are typically discount codes to be found! Search online and make sure you get the best deal. I got 50% off one order - it made my paper stuff
very
cheap.
Just for all you out there who want some details - Here is a small list of vendors and items that we used for the wedding. It's not inclusive, but it's the main stuff!
Vendors
Kristen Marie Photography
. She took all of the images that I used in these posts. Aren't they fabulous? Check out her website - especially if you are looking for a wedding photographer!
Captured Times Photo booth
. This photo booth was one of the highlights of my wedding! I loved it. It was fun for the guests, and the people running the booth were so friendly and wonderful! I highly recommend them as they as really reasonable prices. They do birthday parties, weddings, you name it!
Products
Crystal garlands
: $19 for 30ft. - I used these for my aisle runner, as well as my dessert table. I loved how they sparkled!
Ikea "LILL" curtains:
$4.99 for a two pack - I used these for my aisle as well! They are super cheap, and flow so nicely. Not like typical stiff wedding tulle...and definitely cheaper.
David's Bridal
: (Wedding Dress): Loud and proud. Got my perfect dress there! Um, they have a Princess Kate look-a-like dress available now. Not gonna lie...I would've bought that!!!!
DSW
: (Shoes): Love this place! They have such a big selection, reasonable prices, and killer sales.
Annnd, here are all the Saving Tips from the week! Again, I'm not an expert and am not claiming to be. But these are just tips that helped me stick to my budget and have a great and personal wedding!
SAVING TIP #1: PRIORITIZE where you spend your money.
S
AVING
TIP #2: Don't be afraid to ASK FOR HELP.
SAVING TIP #3: PERSPECTIVE. Remember what the day is really about.
SAVING TIP #4: UTILIZE YOUR RESOURCES and use your friends and families skills if they are willing to share.
SAVING TIP #5:
LOOK FOR DISCOUNT CODES when it comes to ordering online. There are super deals out there...you just have to dig them up!
There ya have it! The end of wedding! I've loved every second.
What was your wedding like? Did you have a traditional wedding? Or did you add your own flare? Did you design anything yourself for your wedding? Tell me about!