I don't know if "rock" is really how you'd describe our reception. But seriously, coming up with a blog title is so hard!!!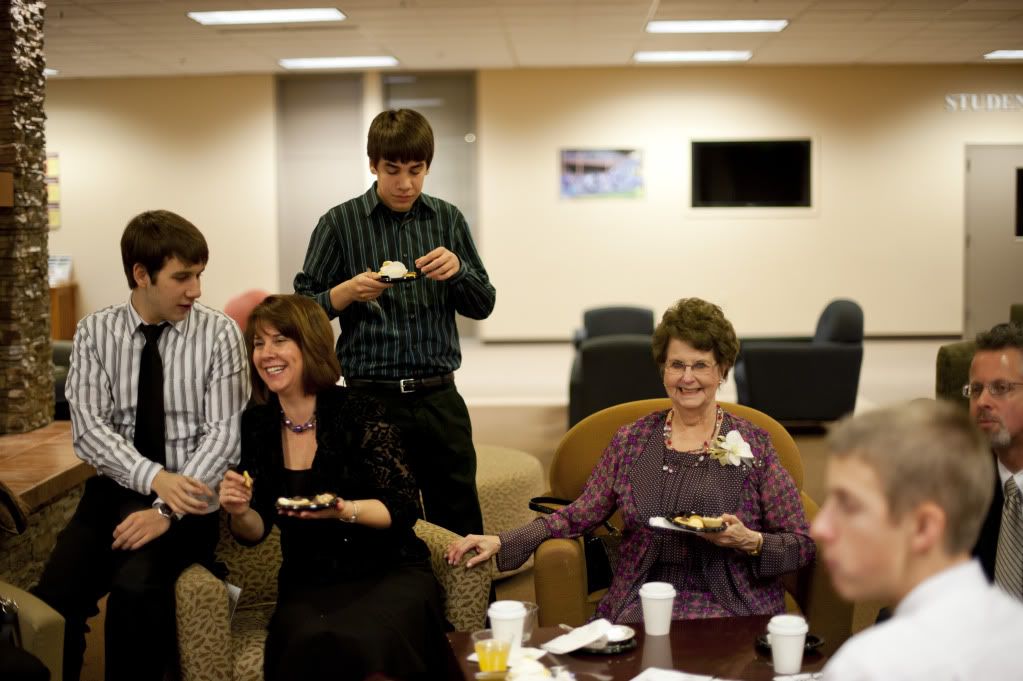 Our reception was held in the foyer of our church and we served dessert and "punch" only. We decided on serving only dessert for two reasons. One being we both love dessert (okay me more than him!) so we thought it'd be nice just to have a bunch of different delicious desserts. We also knew that hiring a caterer and serving a full meal would add a lot of cost and just decided it wasn't something we really wanted or needed.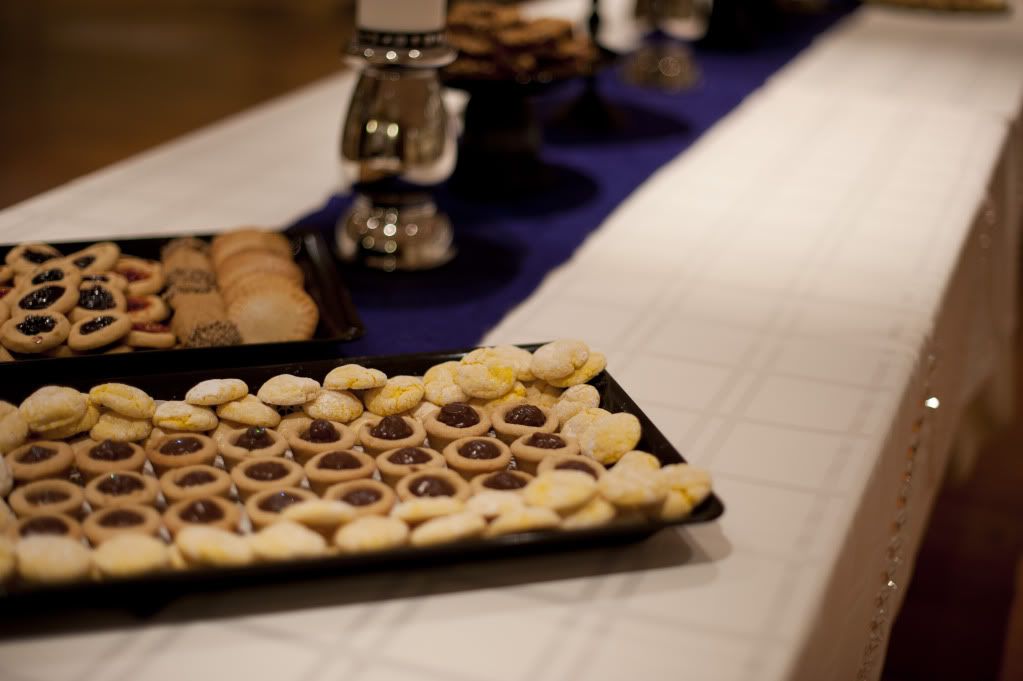 SAVING TIP #2: Don't be afraid to ASK FOR HELP. We asked some of our (most talented) aunts, cousins, and friends to make and bring dessert to serve at our reception. We wanted our dessert to have that special "made with love" feel…and it did! I wish I could have gotten a taste of every single thing! Don't be afraid to ask your relatives, and friends to help you out. I was BEYOND blessed with what was contributed to our wedding and it made it that much more special to us.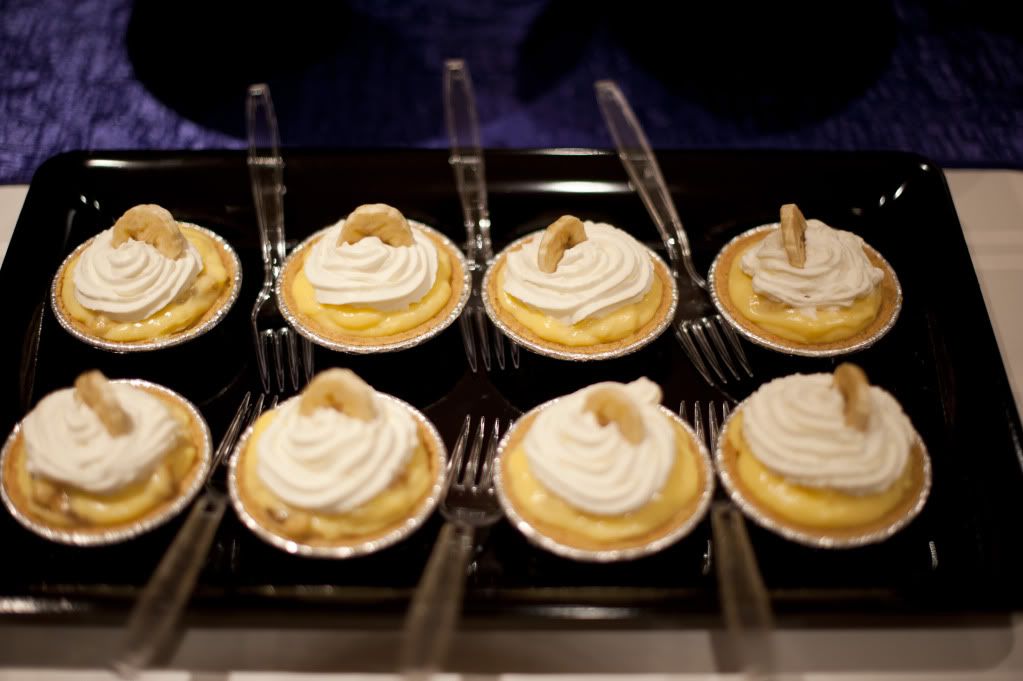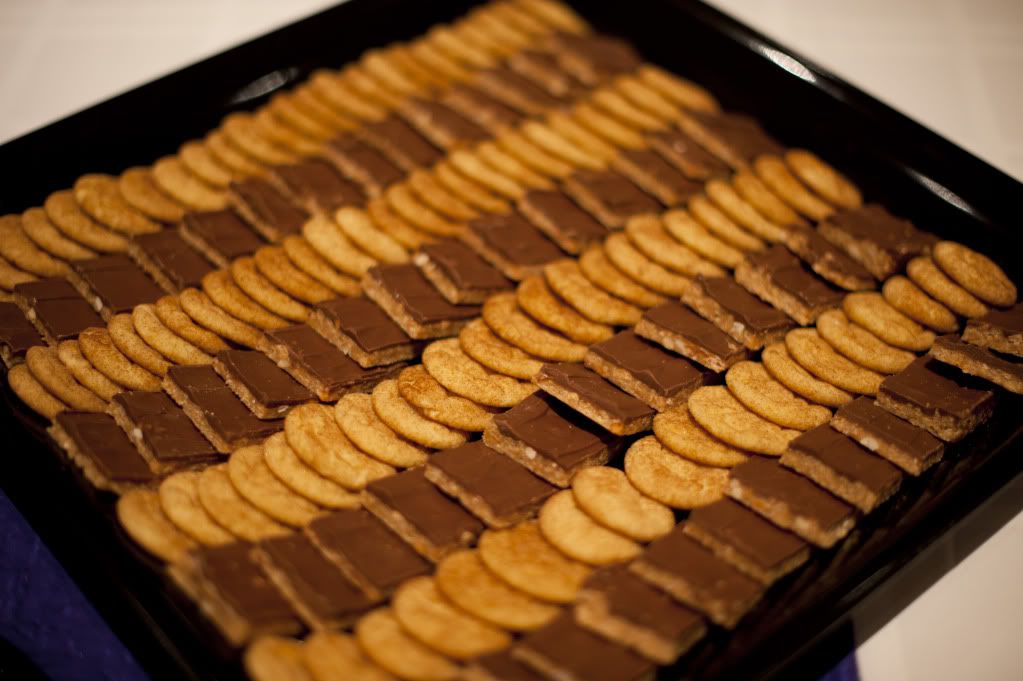 Some of our cost went to renting bistro tables, and table clothes to go with them. We didn't have tables to sit at, but there were plenty of comfy chairs to sit in and chat with people (of course I didn't sit ONCE!)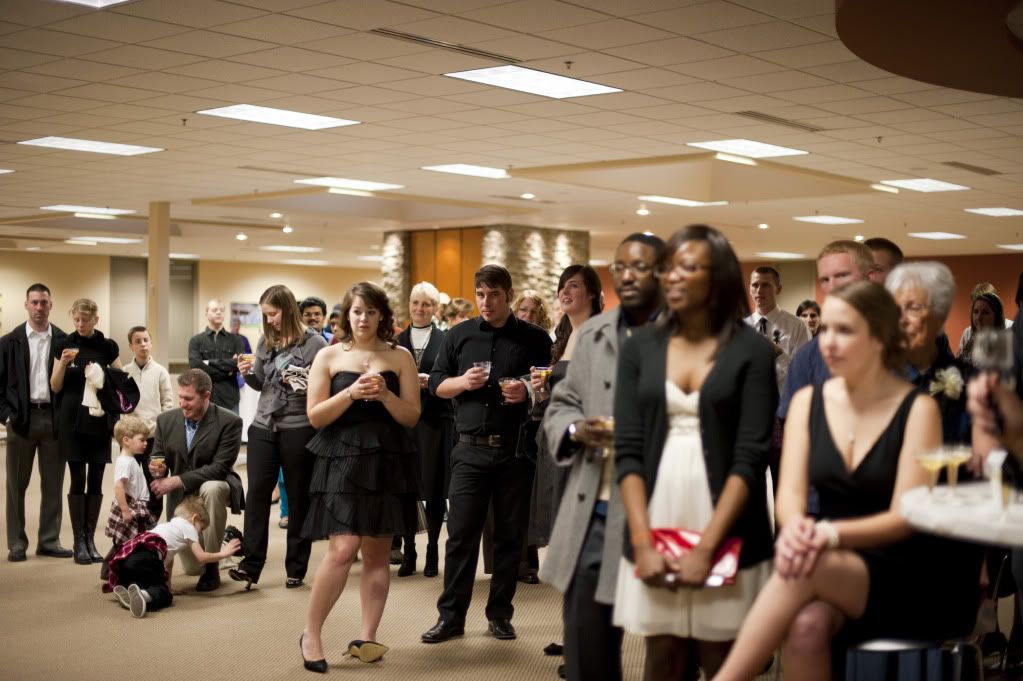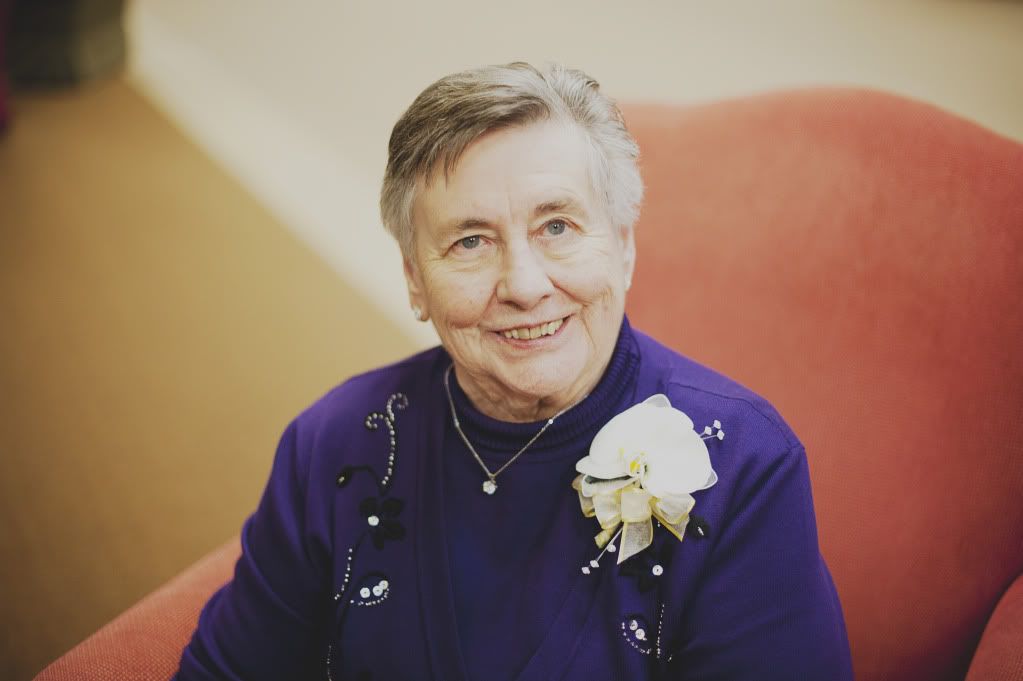 My Grandma passed away in June - so glad she was able to come to our wedding! So beautiful.
I really wanted the reception to have a cohesive feel and decided to DIY some center pieces and serving ware! I went and spent around $100 for all the reception décor. I went to Goodwill, grabbed a ton of $1-$2 vases, candle sticks, plates and trays. I decided to go with black for the center piece and serving ware…the whole church is neutral colored, so I just wanted to accent and not do anything too crazy! I made the cake stands (seen here) and sprayed all the vases, stands and trays a glossy black.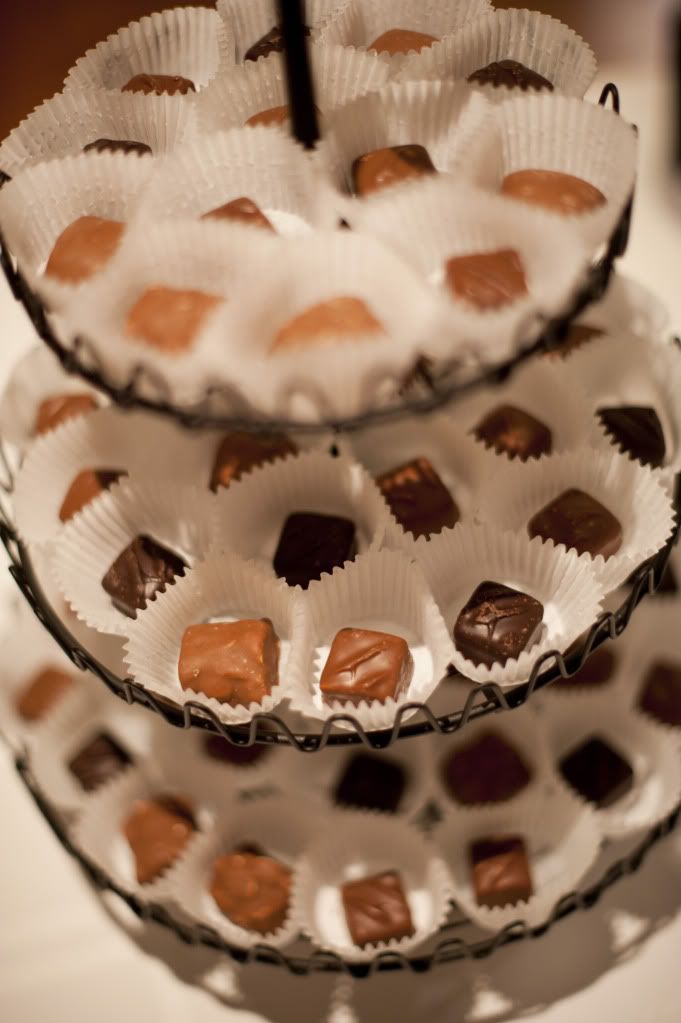 I loved the idea of having some yummy chocolates at our wedding. But all those cute little chocolates from the cute little shops are expensive. So, I cheated and I bought mini "bite size" candy. You know, three musketeers, snickers, milky way. My twinny Emily and my perfect bridesmaid Amanda spent forever unwrapping them and putting them in the candy cups. Keeping up with the health code, they wore plastic gloves! My hope is that when guests bit into it, they would be pleasantly surprised that it was one of their favorite candies! We stacked them all on a tiered cupcake holder that my mom found! So cute and a cheap way to add a fun touch!
My bouquet, as well as the bridesmaids were used for most of the center pieces (another way I saved money…flowers are expensive)! And others were just filled with greenery and some glossy black beaded things I found at Michaels craft store. I used coupons...duh!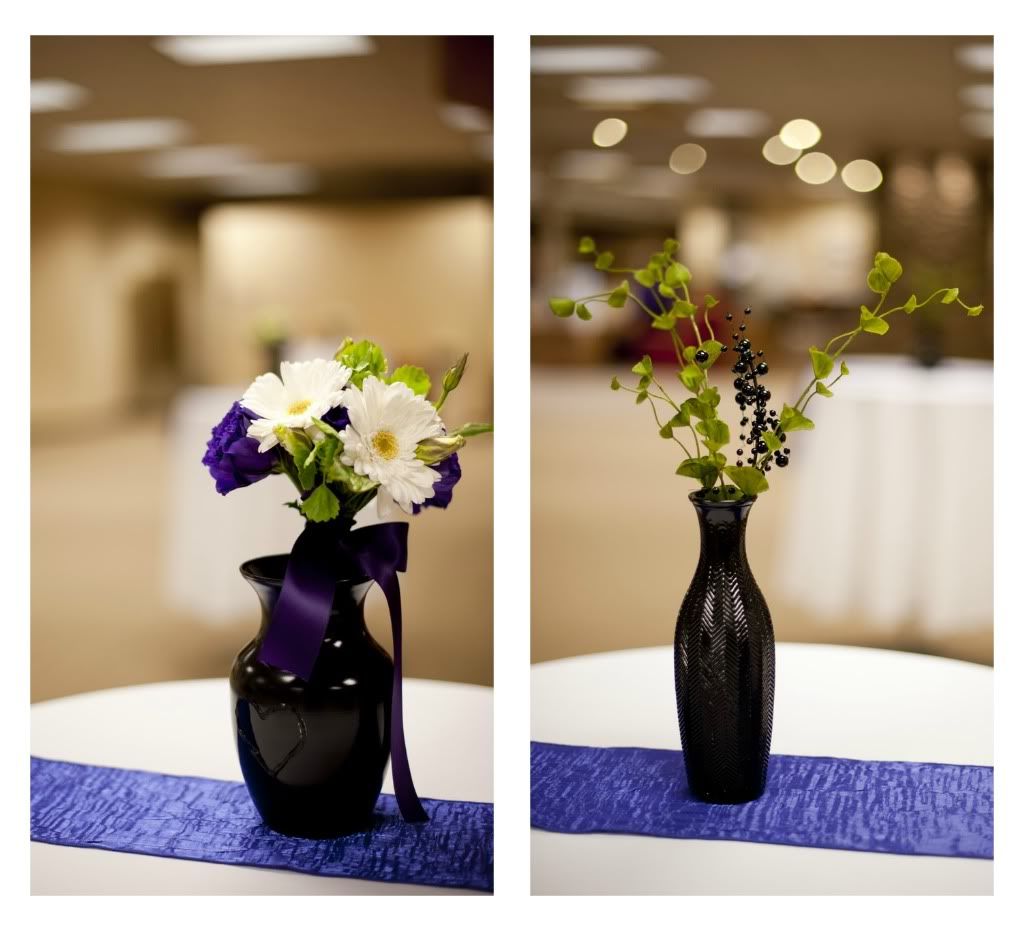 All of the black vases added that glamerous and cohesive look I was going for!
I loved how these banners turned out – and it was a major cheap DIY! Card stock, ribbon, glue, and printer ink was all! I already had a circle cutter, most of the black ribbon and ink.
We had one for the photo booth as well, and I loved how it really called attention to it! We also used the photo booth strips for our guest book…easily one of my favorite things about our wedding! For the book, I just got a cheap spiral bound sketch book. It's got a plain black cover, and hefty pages. The wonderful people who ran the photo booth used double sided tape to stick them in there! I pre-drew lines on every page so that two entries could go on each page. It's hilarious to look through and I will treasure it forever! So much better than the older guest books where you just have a list of names hmm?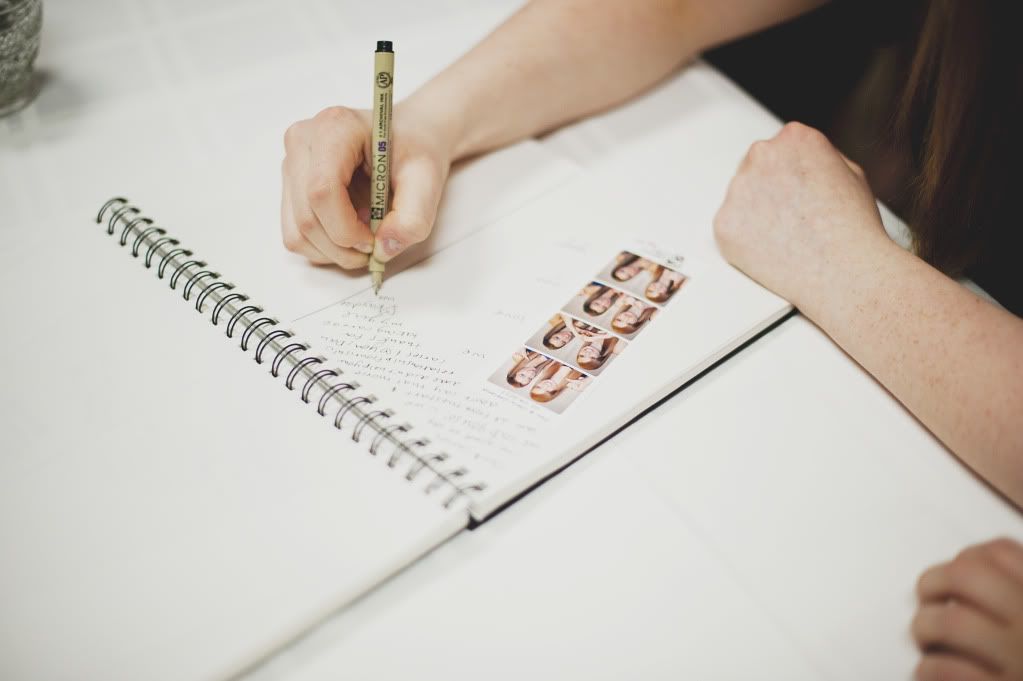 I loved every second of our reception. There were so many people that I loved there! It was wonderful to see the vision I had for so many months come to life! It was perfect!