Okay fine, I am posting this on Wednesday just so my title can be catchy. You caught me! Don't judge!!!
Believe it or not the average cost of a wedding here in my city alone is between $20,261 and $33,768. Hold on while I pick my jaw up off the ground. AND the average bride in my area spends between $1,800, and $2,400 on her dress alone. That does not include, shoes, veil, hair accessories, undergarments, or jewelry (the average bride spends around $300 on those)! Needless to say it really is easy to spend a lot of your budget on looking like a princess. I want to share with you some secrets of how I saved money on my look, as well as for the rest of the wedding party.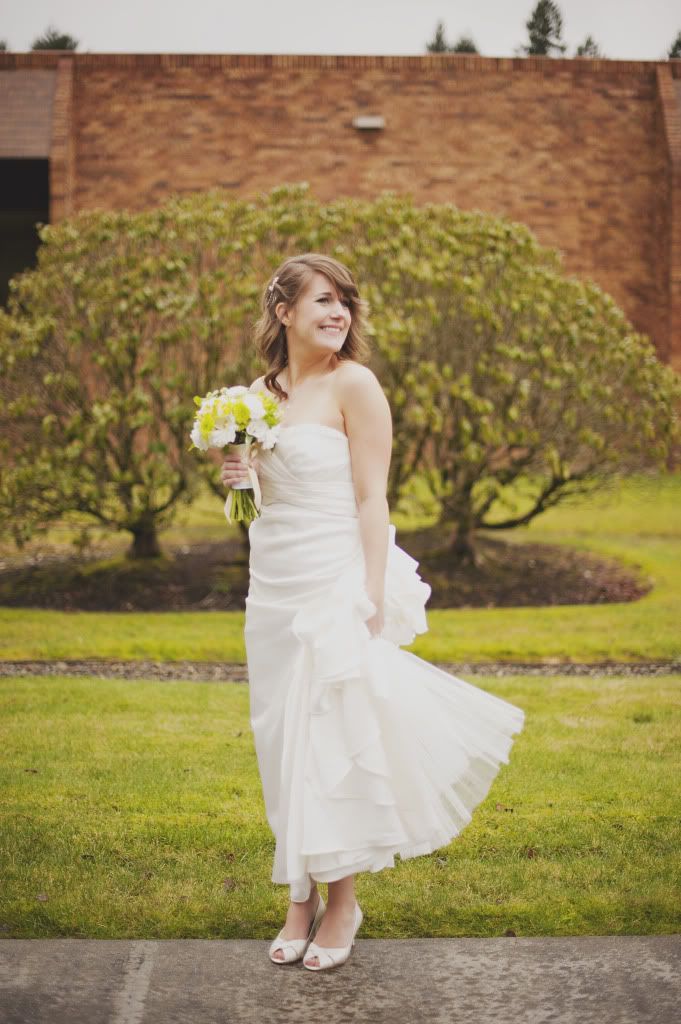 I got my dress at David's Bridal. Before you shudder and close my blog, just keep reading! I have to admit something... I did not want to end up getting my wedding dress from David's Bridal. To me, it was the Wal-mart of shopping. You know, bigger bang for your buck…but not so good quality? Yeah. But I decided to go and at least take a look. I had found a few dresses online that I wanted to try on and decided it was worth a try. I tried on five dresses and…...waaaait for it...….the second one I tried on was "the one".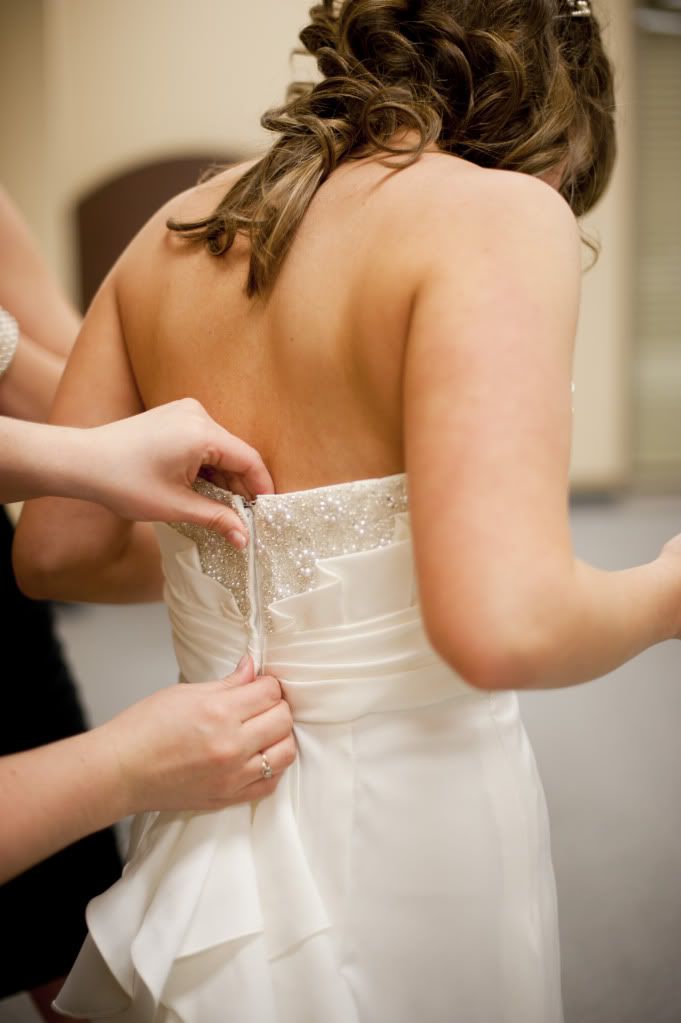 I knew I had found my dress! Ruffles, sparkles, everything!
I already knew that did not want to spend a ton of money on a dress that I would literally wear ONCE and only for a few hours. It just seemed silly. But I still wanted to feel and look my best! Brides, you can find a beautiful dress without blowing your whole budget, I promise! I'm proof! Get this, my dress was around $550 including tax. How can you argue with that!?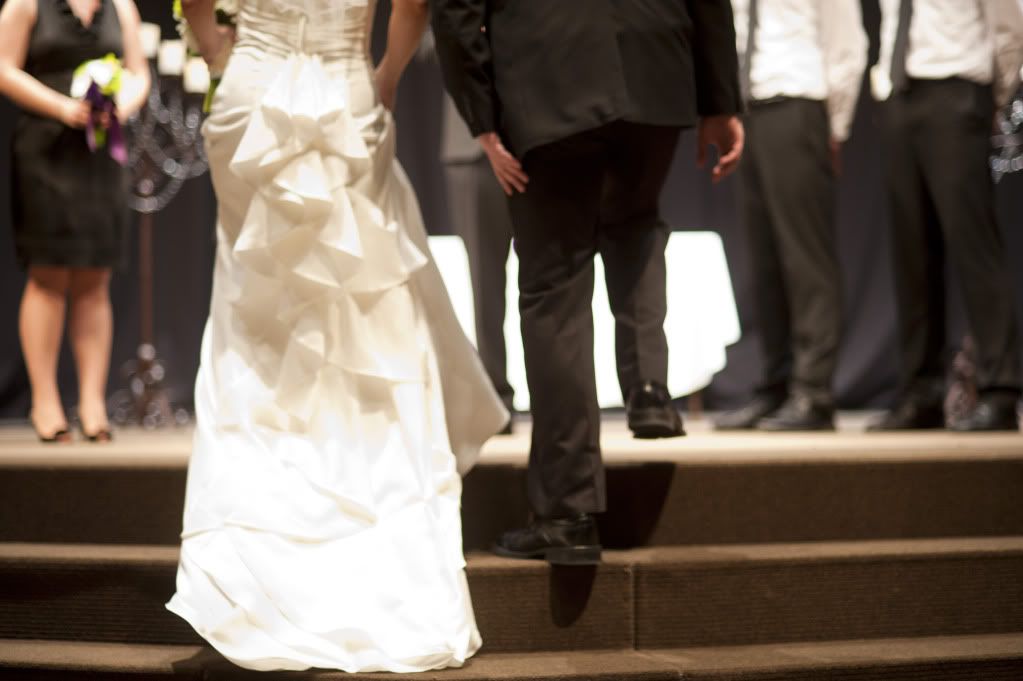 Umm is the back not to die for? Seriously, I die every time I see it.



SAVING TIP #3: PERSPECTIVE. Remember what the day is really about. It will help you spend less money! You don't have to wear a fancy designer dress for it to be special. It's about you and your husband starting your new life together. My husband loves my dress! That's all that matters, right? I quickly got over my snob-snob attitude when I realized that the dress made me feel so pretty, and it wouldn't break our budget. Check out the cheaper places first! You don't want to fall in love with a dress you can't afford.
Side note: I just noticed David's now carries a collection of Vera Wang dresses (she designed them just for David's Bridal!) They are a bit pricier…but are still a great alternative to what you might spend at a fancy boutique.
Something else I was really passionate about was not emptying our wedding parties' wallets! We love our friends and family, and we didn't want them to have to spend a whole lot just to be a part of our day.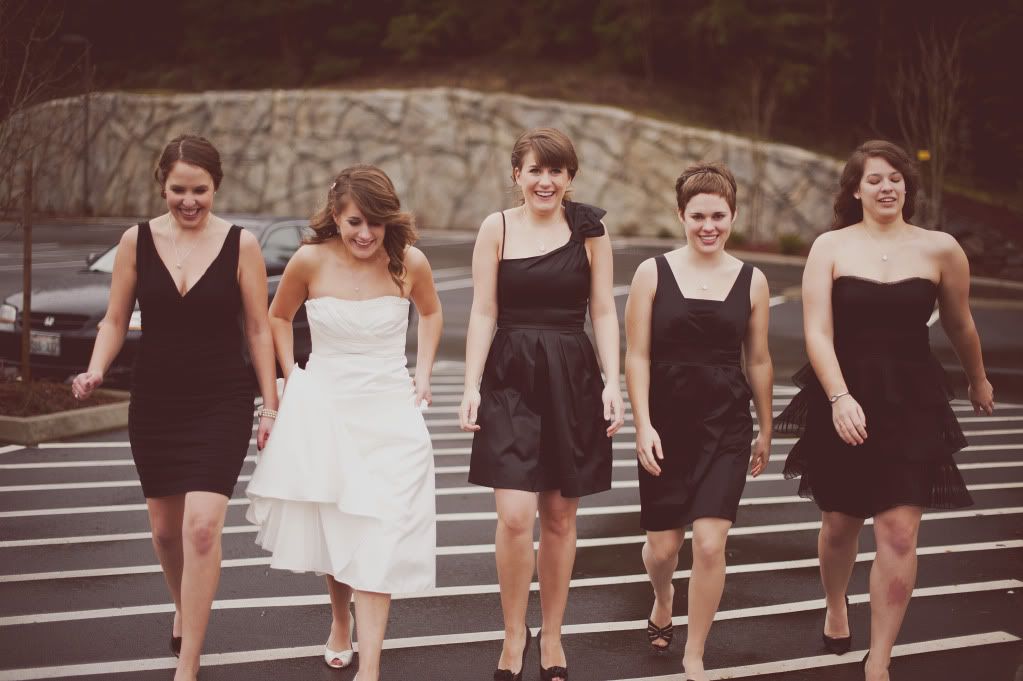 For my beautiful bridesmaids, I decided to go with black dresses. Our accent color for the wedding was purple, so for a while I searched for purple dresses for them. Who doesn't love a good purple dress!? But let's get real here people, one dress will never look good on five different girls with five different body types! Who came up with that idea anyways? I wanted the girls to feel beautiful, and confident! So they all went out and got their own black dresses. They could spend whatever they wanted, and find a dress that fit them. They all looked so fabulous! What beautiful friends and sisters I have! I felt better knowing they felt their best.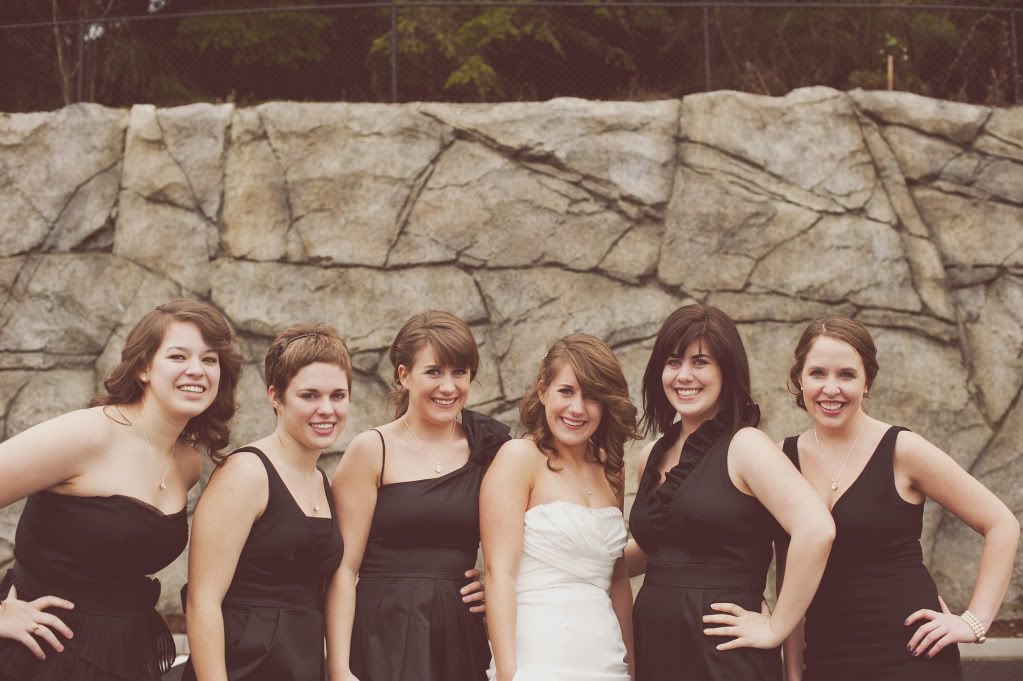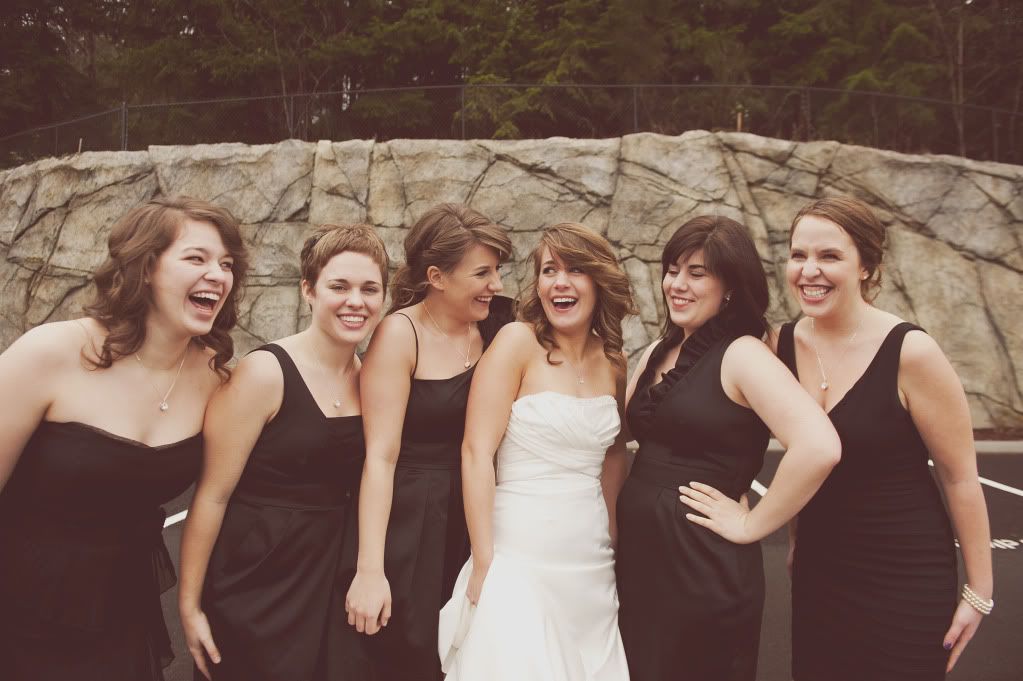 Because it was a midday wedding, we decided to forgo jackets for the men. For me, it just wasn't important, and I knew it would cut cost for them!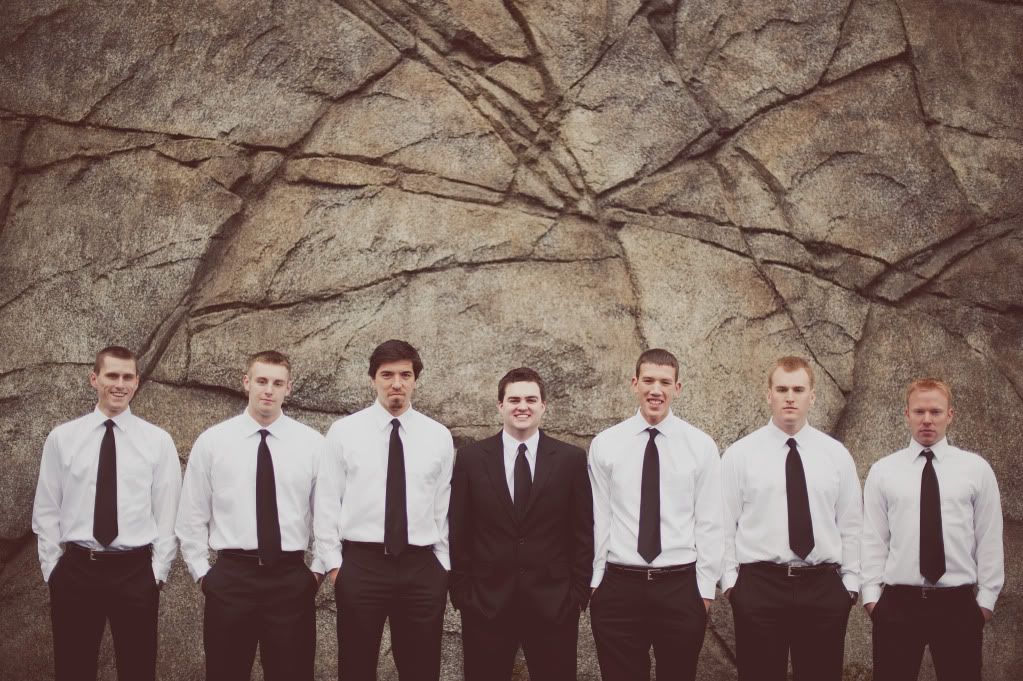 Dan and I went to Sears a few weeks before the wedding, and picked out a nice white dress shirt, and black (tiny pin stripped) pants. We wrote down the details, and e-mailed them to the groomsmen for them to buy. That way we didn't have the big upfront cost, and they got to go try them on and get the perfect fit!
Most of them already had nice black dress shoes. We also bought them all the same belt and (cheap) black ties. They looked so great didn't they?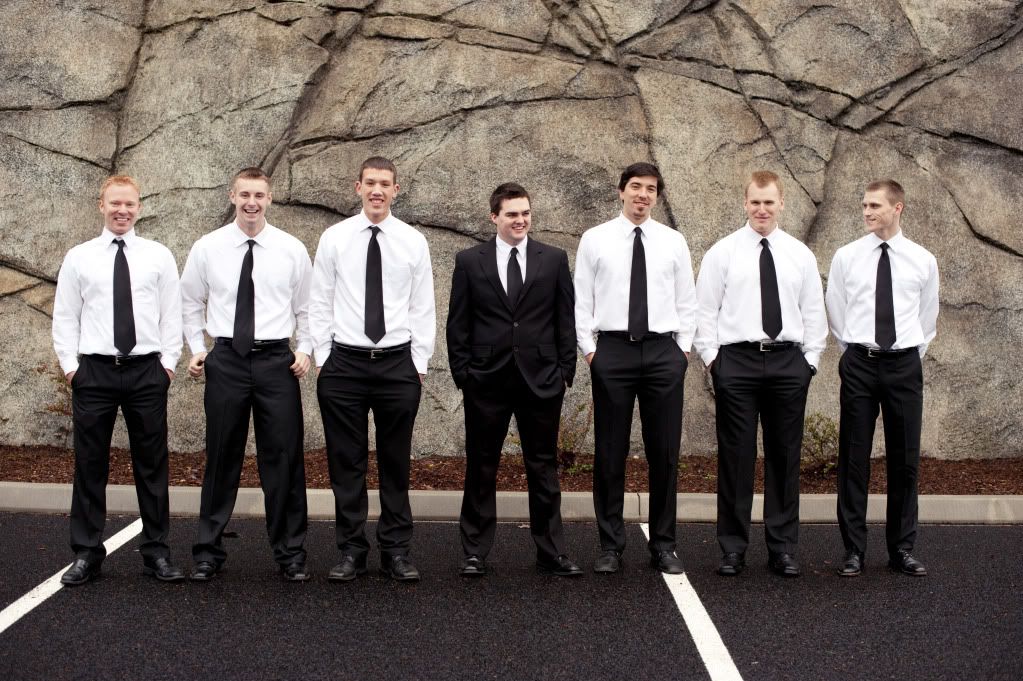 The whole look ended up costing them under $100 (unless some of them bought shoes…I'm not sure on that one!)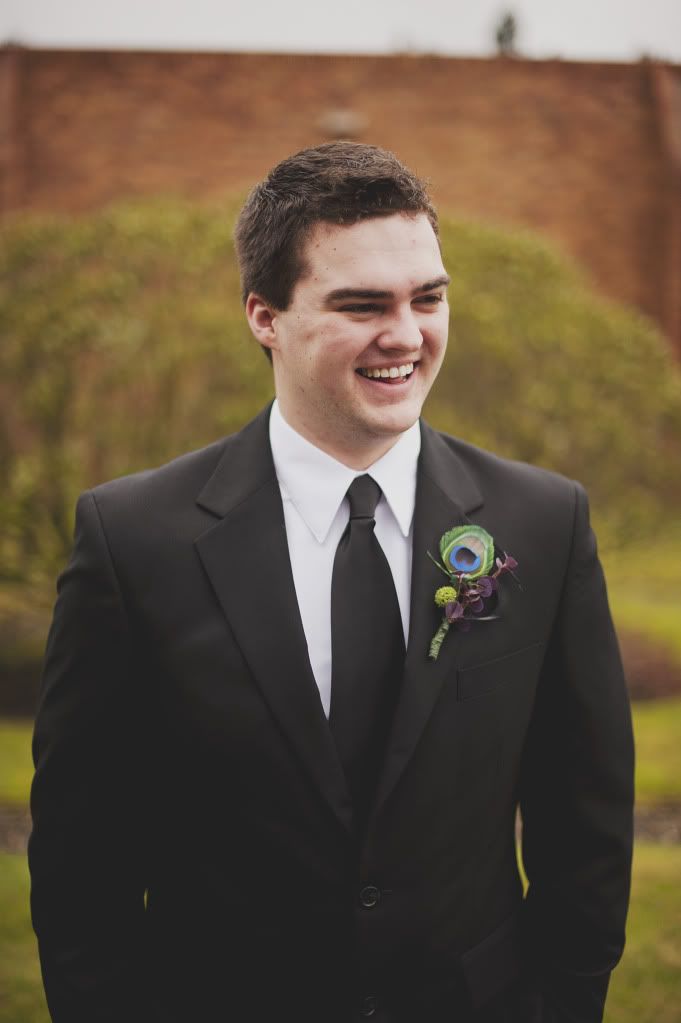 We ended up buying a suit for Dan. We figured he could use it again and wanted him to look super swanky! We also wanted him to look a little different then the groomsmen. What can I say? I like it a little nontraditional. They all had matching peacock boutineers that I made my self.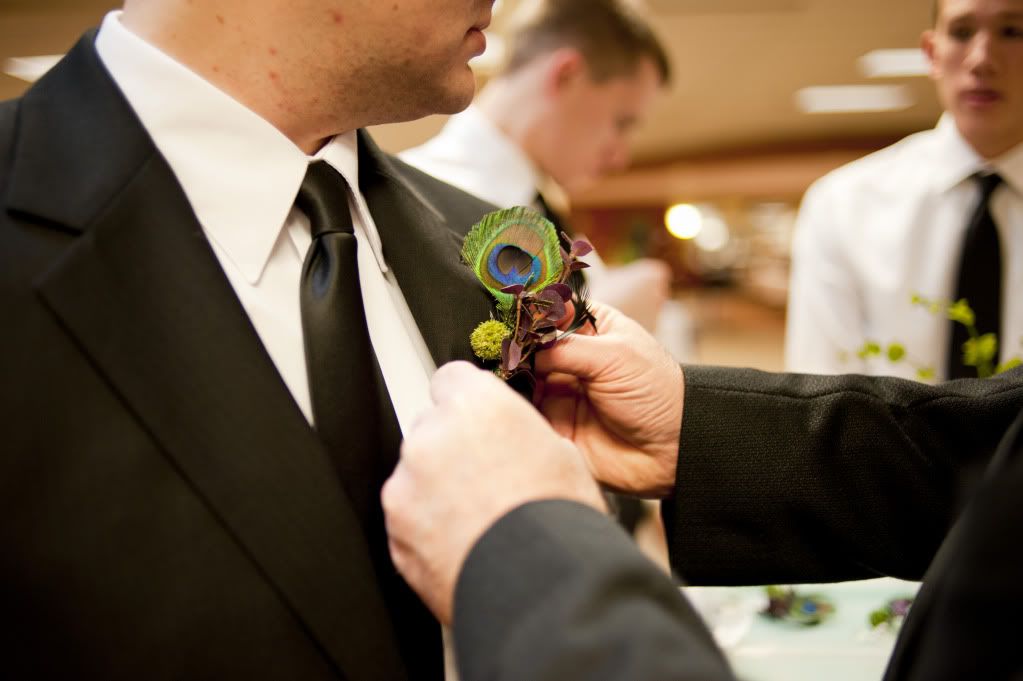 Our flower girls had the cutest purple dresses! Aren't they the best? And our sweetie ring bearer had a tiny tie and elastic waisted dress pants. They did such a good job!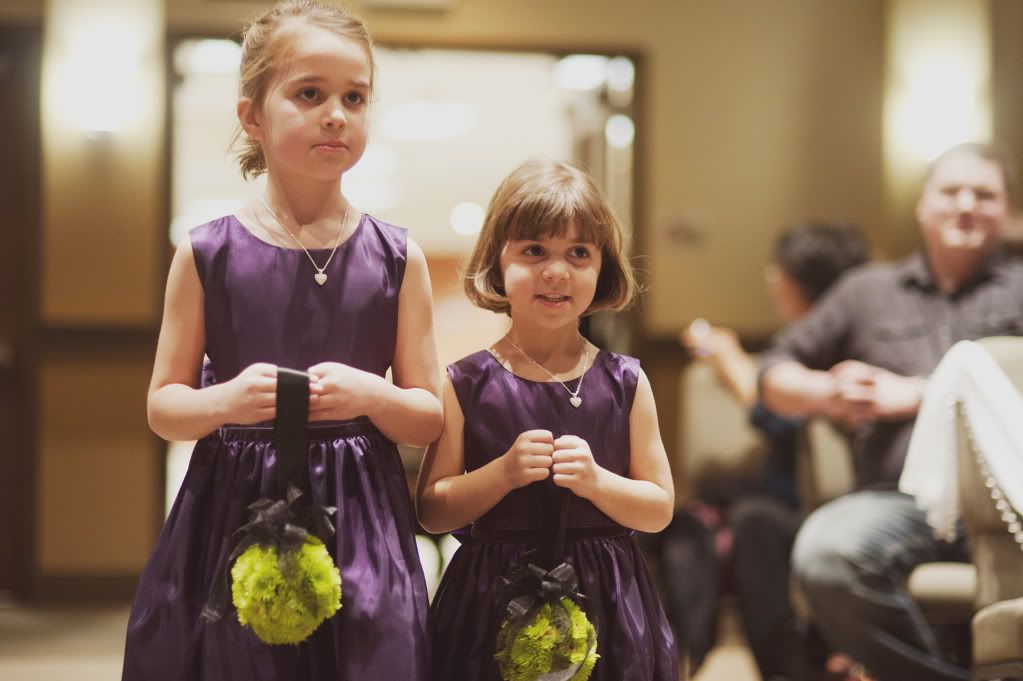 Here is a tip for you! Don't make your little cuties stand up there for the whole ceremony. Depending on how young they are, they might distract from the ceremony, or start misbehaving! I had my flower girls and ring bearer stand there for about ten minutes. Before the whole wedding party "took the stage" the kids went back and sat with their parents! They did sooooo great and were just adorable. Almost too adorable...what was I thinking? Cute kids always outdo the bride.
There you have the pretty little details of our wedding party! I hope it was helpful to those of you who are on a tight wedding budget. Just like for everyday clothes, it is possible to look great and spend less!