***UPDATE***See bottom of post to read more about the products I used!
Sometimes, "doing-it-yourself" doesn't mean, "Hey, this'll be really great and turn out exactly like you wanted it to!" Sadly I found out that things can go very, very wrong. Sometimes it turns into, "Hey, I know you wanted to spend $30 on this 'small' project....buuuut you ended up spending $95! Yay you!"
Are you a DIY dreamer? I think I was until a few weeks ago when I decided to make my own Starburst mirror. Inspired by all the ones I'd seen on Pinterest - I knew I had to make my own.
I love the rough, chunky-ness of them. It's a DIY dream project! So fun, cheap (most of the tutorials I found online said they spent about $30), and oh so clever.
What I didn't know was that the placement and length of the shims is crucial in determining the size of your piece. Now, if you are good at that mathy, gross, geometry stuff you may be thinking, "
WOW, duh Carly
." But, I do not enjoy, practice, or understand mathy/gross/geometry stuff. So this did not occur to me as my crafty brain went to work thinking of a pattern that I liked best. I got about a quarter of the way through and knew I'd need three times the amount of shims that I had already purchased. Oops...
So, now I'm sure you're dying to see my work of art! Despite my "disaster" talk, I actually love how it turned out. I just wasn't prepared for how large it was going to be, and that shocked me into DIY disaster mode! It's never fun to realize that something is not turning out the way that you expected. That's the life of a DIY-er, hmm?
Here she is in all her 40 inch-diameter-glory.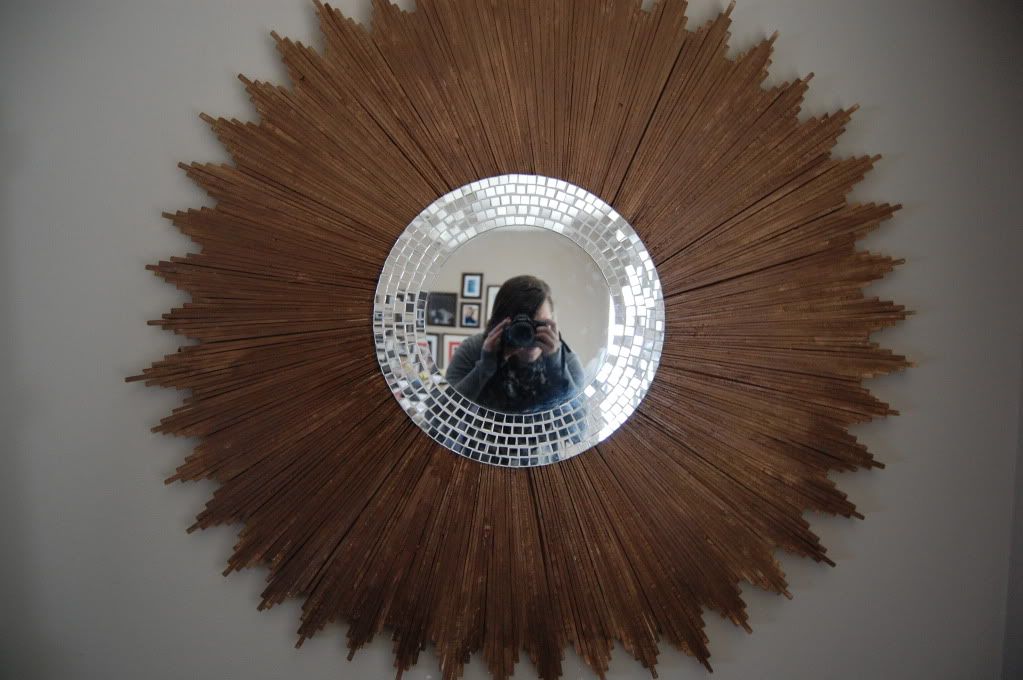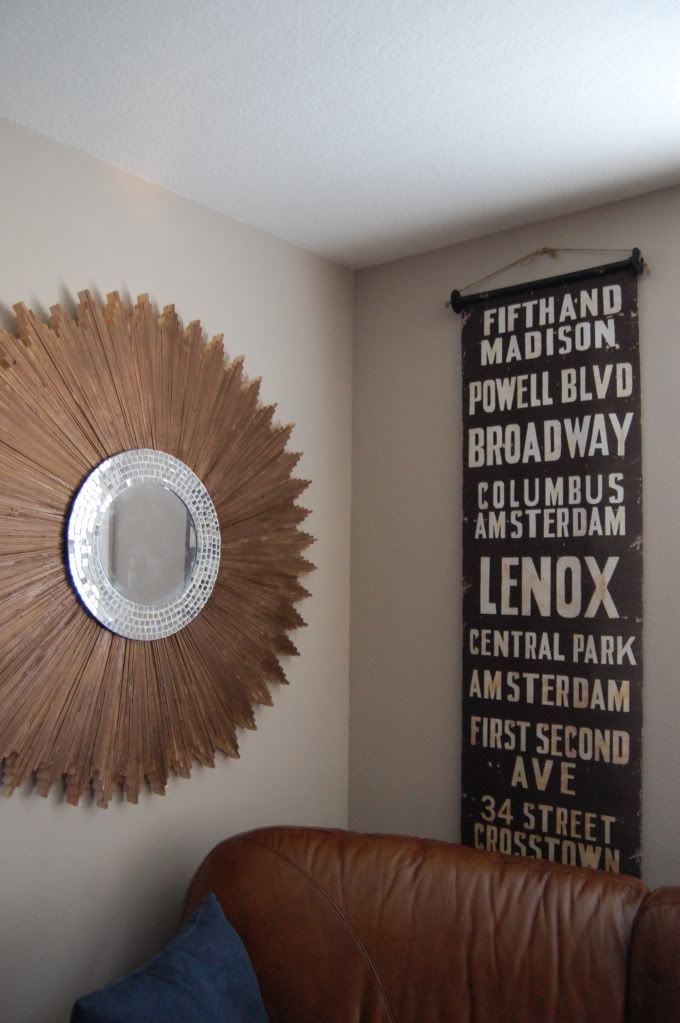 If you're interested - I used Martha Stewart's "bronze" paint from the paint aisle at Home Depot. It has a great finish! It sparkles slightly in certain lighting. I rubbed it on so that it would look more like a stain. I didn't want it to be too perfect because, after all, it's made from shims and I wanted to keep that rough look. I think a solid coat of paint would be too stark. I chose to leave the edges unpainted for a little contrast. I contemplated painting them a bright color -and while that is still an option - I'm enjoying the raw wood for now!
So, that is the tale of my small, $30 DIY sunburst mirror turned into a large, $95 DIY-could've-bought-a-cheaper-one-at- Ross sunburst mirror. *sigh* I suppose this is the risk you take when you decide to take on such a project! But it hurts a little more when you're trying to pay off student loans....and eat food every once in a while. Ha! I kid. But seriously....mac 'n cheese anyone? My messy bookshelf is a post for another day.
It's grown on me since I got past the trauma of it all! It's HUGE and makes for a great focal point in the room. Unfortunately my 700-something square foot condo seems a bit too small for such a large piece. But hopefully once we get a bigger place it will find a bigger wall to live on! Learn from my mistakes and don't let it scare you away from doing it yourself. It really was a fun project!
You might be wondering why I didn't bail once I figured out how many shims it would take. Well, knowing what I know now I might have. But once you are already $40 bucks in - it's hard to scrap it completely! I just couldn't stop.
I'm going to spare you my pathetic attempt at a tutorial, and link up a few that were successful. Here are some tutorials that I liked the best! They are each so different. This is a fun project because you can be creative and do your own thing! Check these out!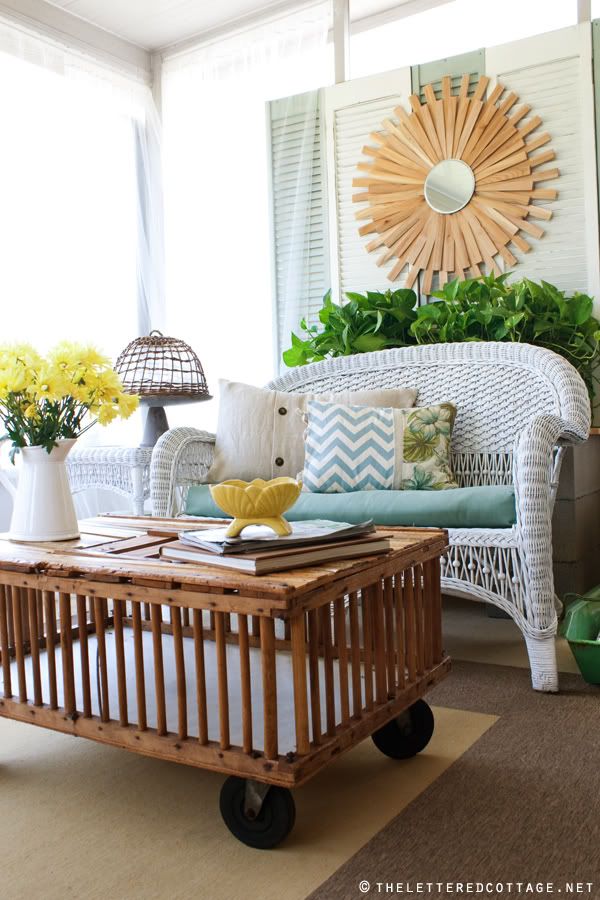 http://theletteredcottage.net/diy-mirror/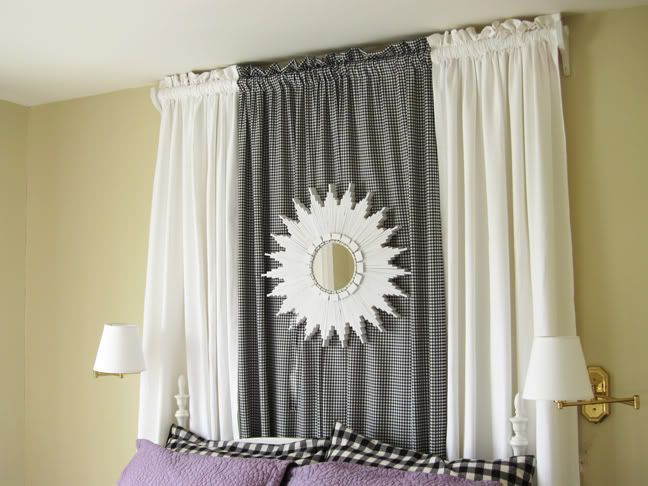 http://www.momtastic.com/home-and-living/home/165311-how-to-make-a-starburst-mirror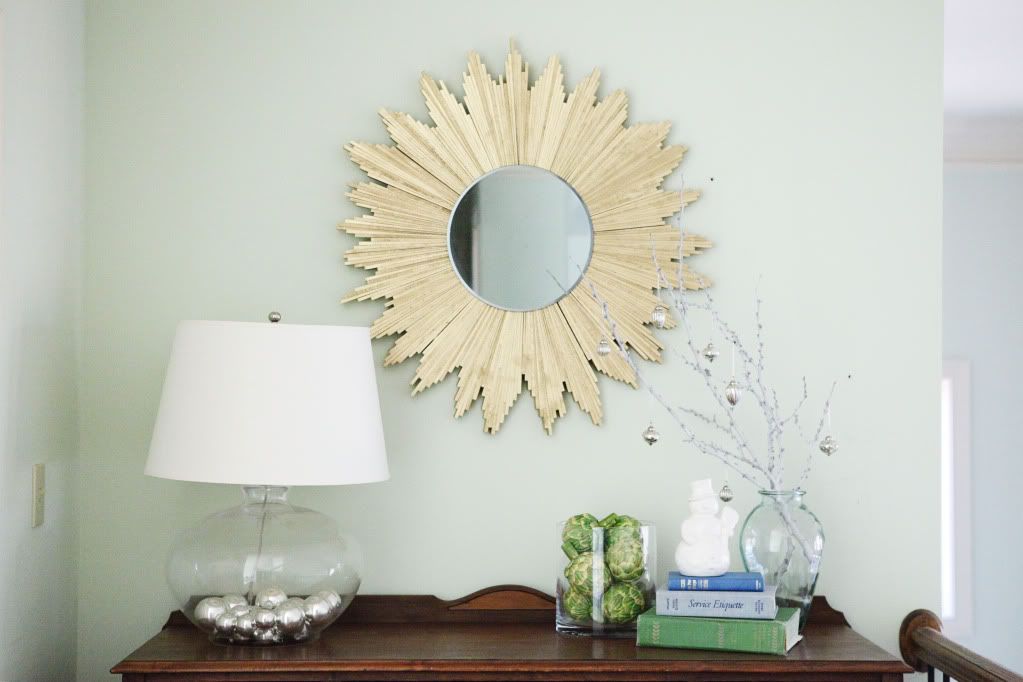 http://www.bowerpowerblog.com/2011/12/star-of-wonder/
Does anyone have DIY disaster stories? I'm lucky that mine ended up being ok! Have you ever had a scrap a project all together? Tell me about it! Please! It will make me feel better....
***UPDATE*** Here is the nitty gritty. This isn't a tutorial...just more of an informational thing so that you don't make the same mistakes I did! OR if you need a huge mirror....follow me! I used 16" wood shims from Home Depot. I think that was why it turned out huuuuuge. But that was the only size in natural wood that was available. I don't quite remember because I repressed the process of this whole thing...but I'm pretty sure I used about 10 packs. I don't remember how many are in a pack!
I used Elmer's wood glue for whole thing. It's in a bottle and I used one and a half bottles. I'm sure it's easier to use than anything in a caulking gun. Spare your hands and go for the bottle! Because this was so big - I had to enlist the help of my handy man Dad to create a backing to stabilize it. We just glued a round piece of wood to the back and that did the trick.
Whew- I think that's all in terms of details!
Don't hesitate to ask questions if you have them!