I'm sure I'm not the only one who has drooled over the adorable fabric covered
alphabet at Anthropologie.
I love how they are a little plushie, and have a contrasting color on the back and sides. However, at $14 a pop and in colors that don't compliment my color scheme, I resisted the urge to snatch one up. It's happened to the best of us....I know you know what I'm talking about! It's that little voice inside your head that says, "I can totttttttally make this myself". SO I decided to take up this project and make my own - it had DIY written all over it!
I found a few tutorials on fabric covered letters online, but didn't really follow any of them. So I pretty much did my own thing! I don't claim to be the creator of this idea...but I thought it would be helpful just to show you what I did.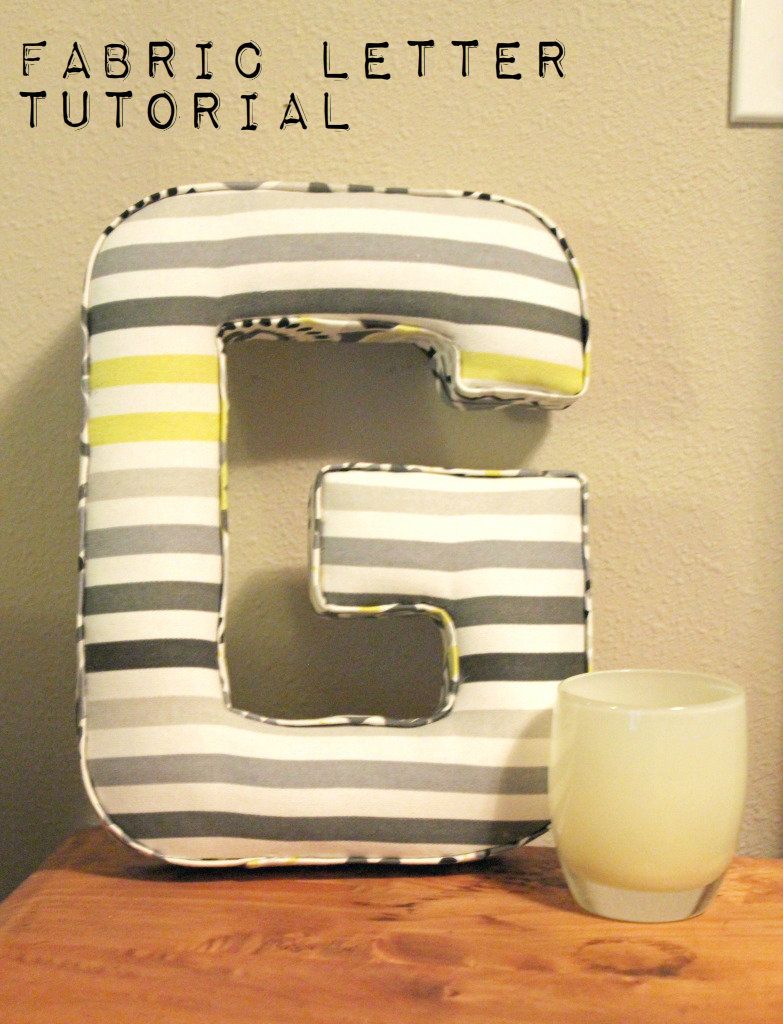 My supplies are as follows:
-Spray adhesive (only for the batting)
-Paper mache letter
-Batting
-Fabric of your choice
(I really forget how much I got - but it was basically enough to cover one side and a little for the edges. Easy to figure out and definitely depends on your letter size.)
-
Hot glue gun
I really winged it on this one guys. I'm not a great planner when it comes to making all my crafts! I love just going for it - so obviously I made some mistakes. Like tracing the "G" backwards at first. Oops...
Which leads me to the first step:
Trace your letter onto your choice of fabric.
We are starting at the front - so trace it with the front facing down (and avoid the time I wasted by not doing this), and make sure it's on the wrong side of the fabric. I then cut around it leaving a good chuck to overlap on the sides. This is not a super critical step - just make sure to leave enough to wrap the edges! At this point I also cut slits around the details of the letter - you can see it better a few pictures from now.
Next,
I glued my batting down.
How much of it depends on your preference! Mine isn't that plush. Just remember that it'll compress once you pull your fabric tight. I tested it by wrapping some fabric around it until I liked the look.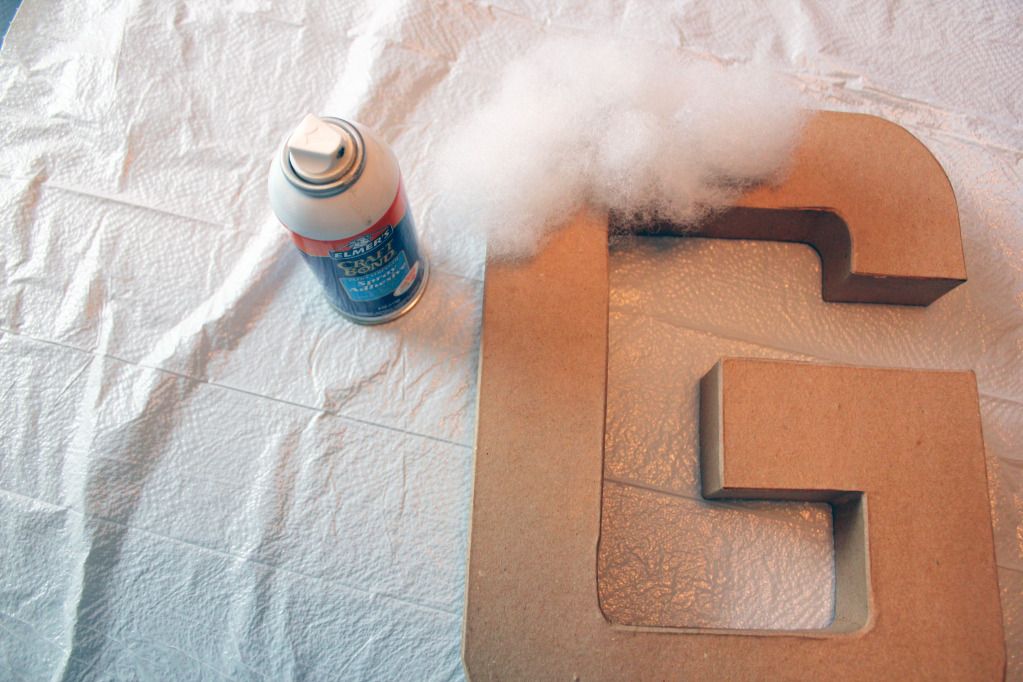 Once I finished gluing all that down -
I glued one side of my fabric onto one edge
. I'd strongly advise switching to your glue gun and putting the spray adhesive away for the rest of the project! Over-spray could ruin your fabric and that would be so sad (this totally
didn't
did happen to me.)
You can see the slits I cut around the center details in this photo.
Start gluing away, pulling tight as you make your way around.
The sharp corners were difficult for me and I learned as I went on. But I know you could probably find a better way than I did! Mine would easily rip up the corners if I didn't hot glue them to death. Any better ways to do this!? Ugh.
The curved outside edges were easier for me by far!
I fringed the edges and just wrapped and glued, wrapped and glued
. Mostly, you need to be concerned that the top 1/4 inch of the side is smooth - anything else below that won't show once you put your boarder on. This is a picture of the backside, but it's the same process! It's the only picture I got of my fringe technique.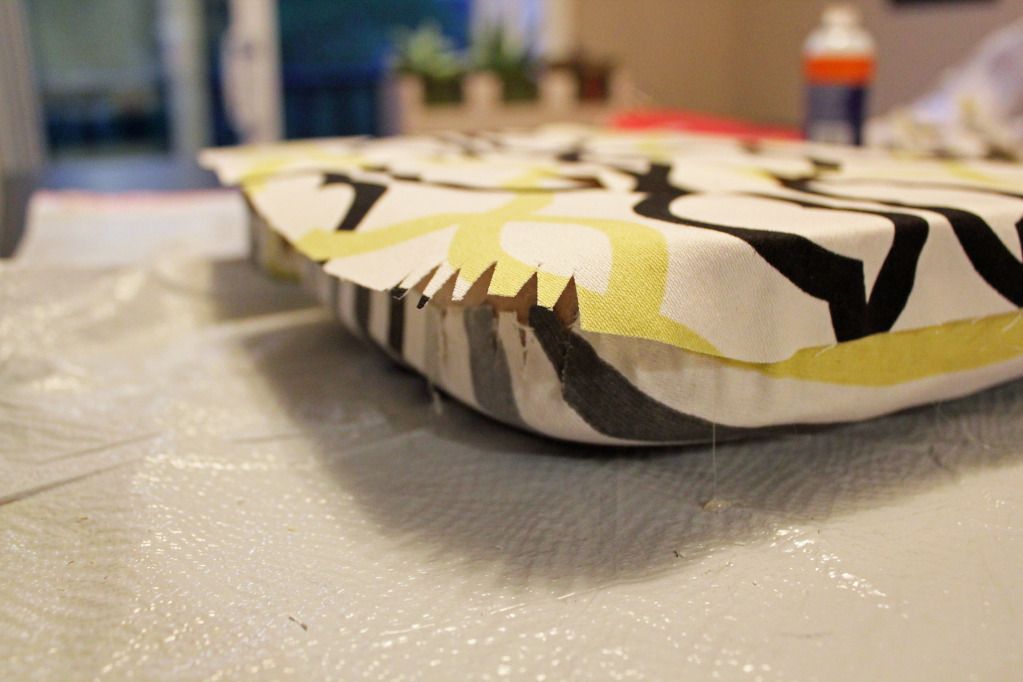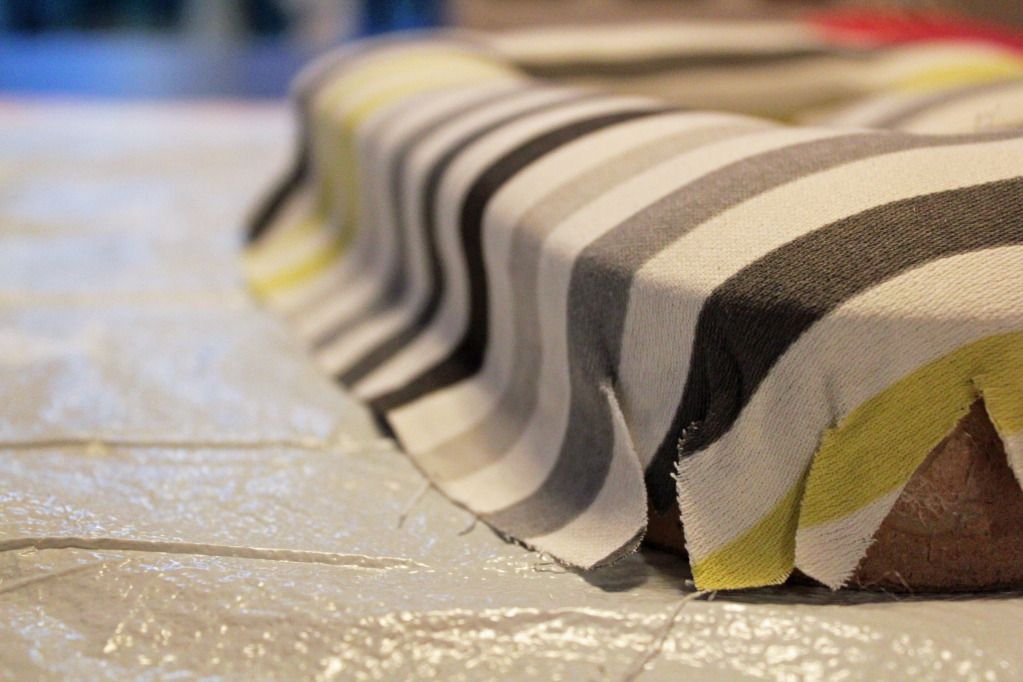 Continue to wrap and glue.....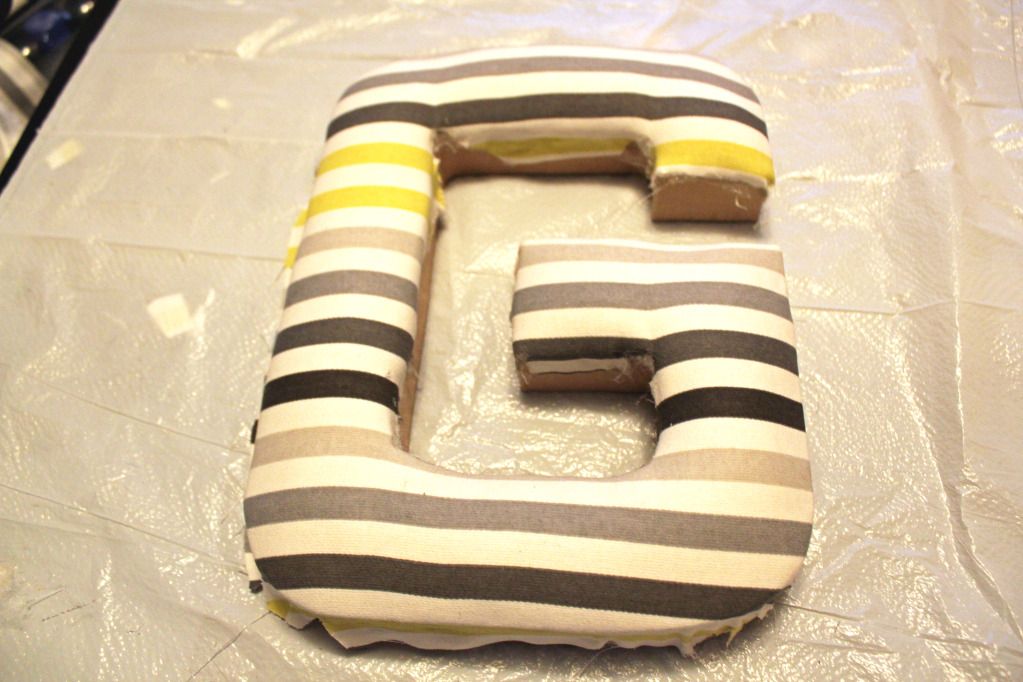 Taa daa! You've got your plushie front side done.
It should be nice and tight, and smooth! Don't you love that stripped fabric? Obsessed!
Skip the batting steps, but repeat the fabric wrapping and gluing steps for the backside.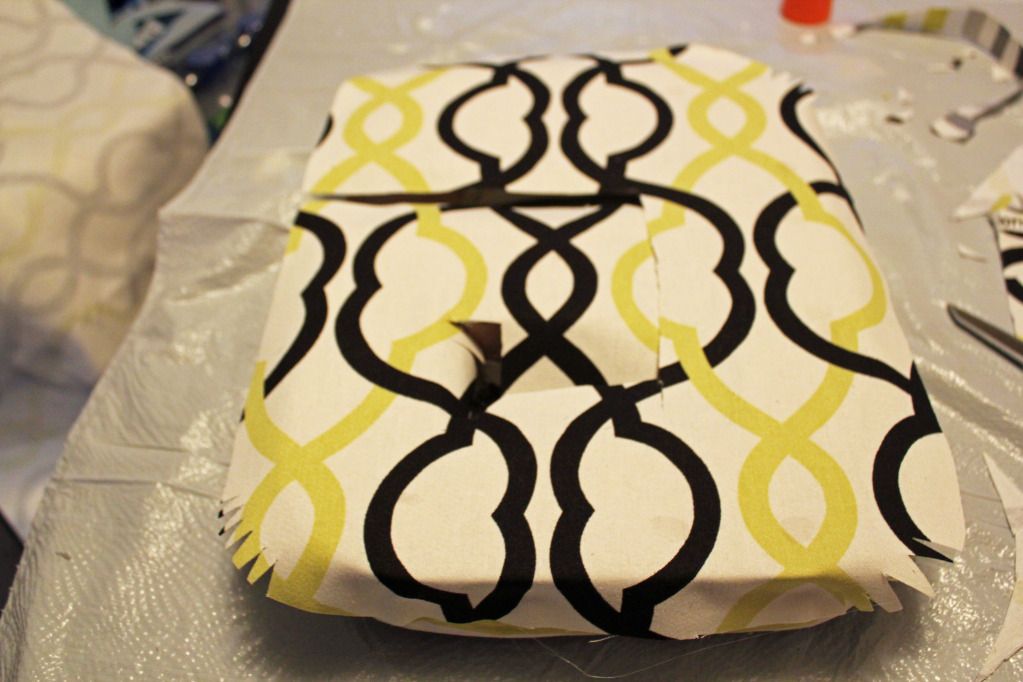 Wrapping and gluing all around, making sure to give it a little tug to make sure it's taut.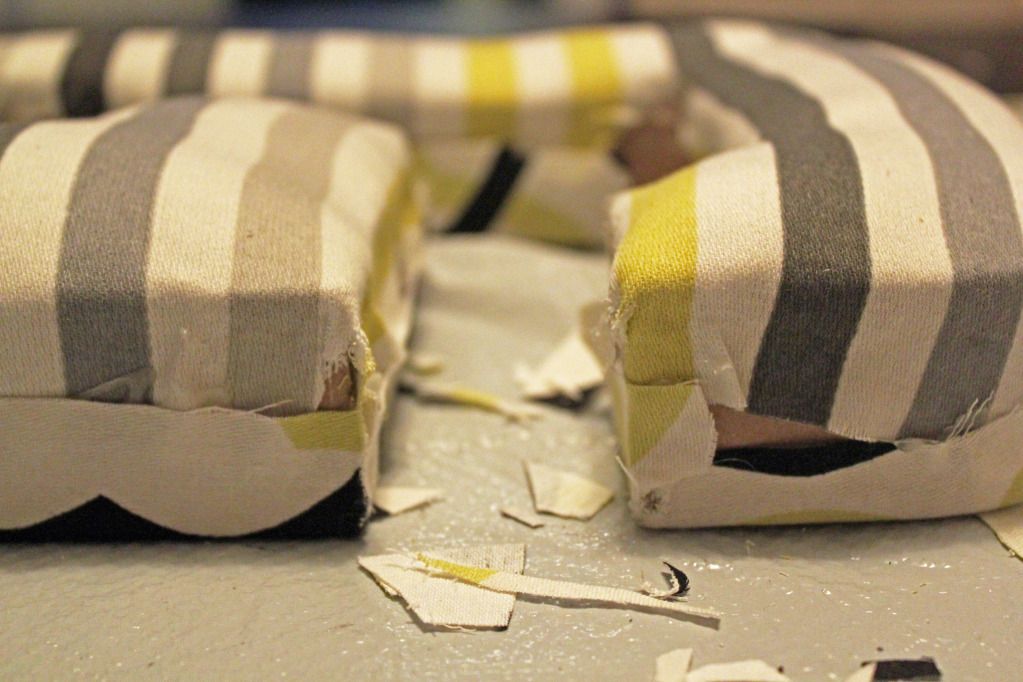 Trim up the excess fabric from the sides to reduce the bulkiness.
I didn't worry about making it pretty - we are just going to cover it up!
I really debated on how I wanted to do the sides. Just straight up glue fabric down? Use cardstock for structure? Include piping? I played around for a while and decided to use some card stock I had laying around.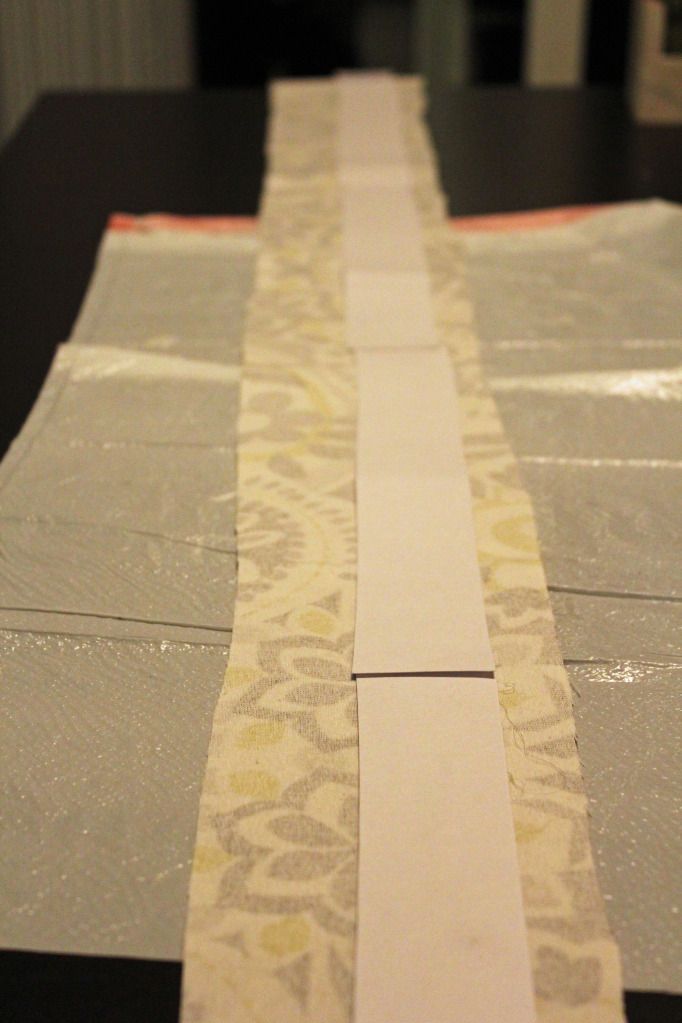 Measure the edges, and cut enough strips to go all the way around your letter.
I honestly wasn't that careful with this step. A paper cutter would do wonders but I was stuck without my ruler (couldn't find that darned thing...) and had to wing it (as usual). But it ended up being totally fine!
Make sure and glue this down very firmly
. I wanted the front edge to be really clean and crisp. The backside doesn't matter a ton. It still looks nice but I wasn't as careful. If you don't glue it down firmly - it won't be as crisp looking and your fabric might bubble up in some places. I didn't do this at first and had to start over. It just looked too sloppy!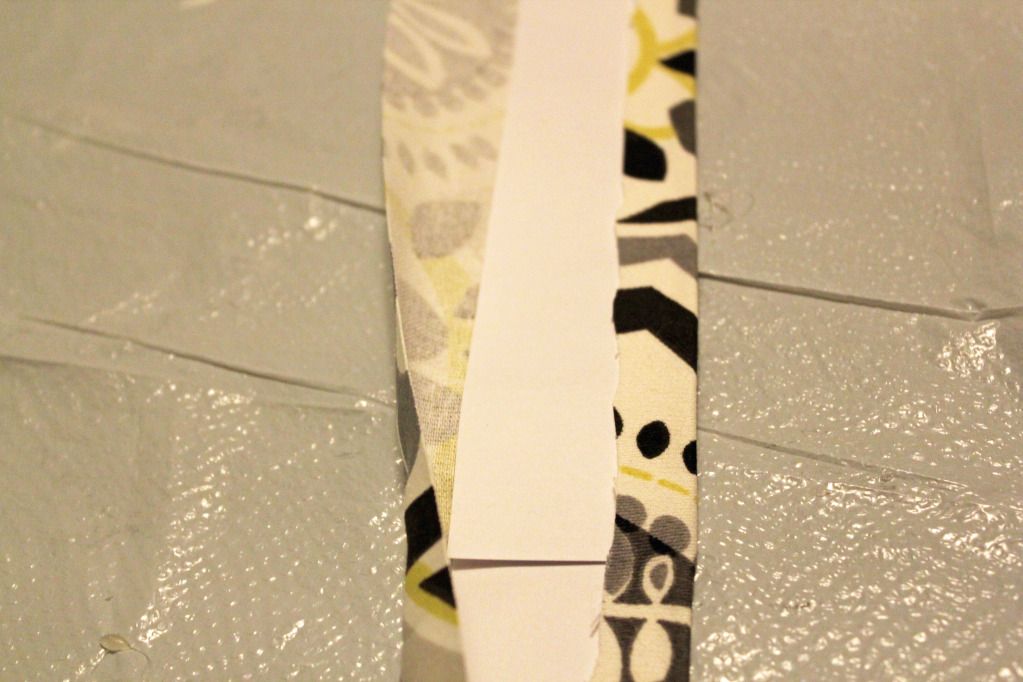 Once you have a long strip of fabric - you are ready to trim that letter! I started in an inconspicuous spot. It's totally subjective so just pick a spot that you think won't show as much.
Using your glue gun - just trim that sucker up!
I didn't use a ton of glue here. It just didn't need it.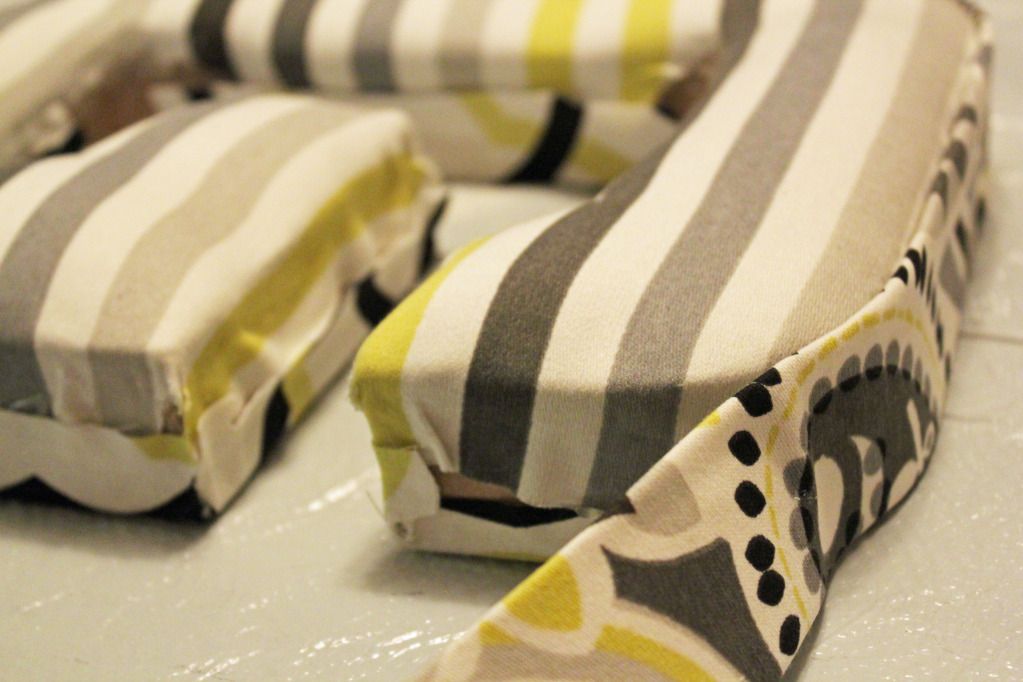 I really wanted to give my letter my own personal touch. I was planning on making a small "g" using the 8" paper mache letters at Joann's. But once I started browsing I couldn't help myself - I needed the big one! I believe it's 12". I snatched up that big ole' "G" and headed to my favorite aisle in all of Joann's...the fabric aisle. I skipped the quilting cotton and headed straight to the decor fabric. My "G" really needed to pop, it needed to have an element of quirk, and definitely needed some bright color! I spotted these three coordinating fabrics right away and pretty much didn't look back!
The patterns work perfectly together (Floral, pattern, and smaller/bigger pattern...that's the rule of pattern mixing), and the gray, black, and limey/yellow worked beautifully with my bedroom scheme.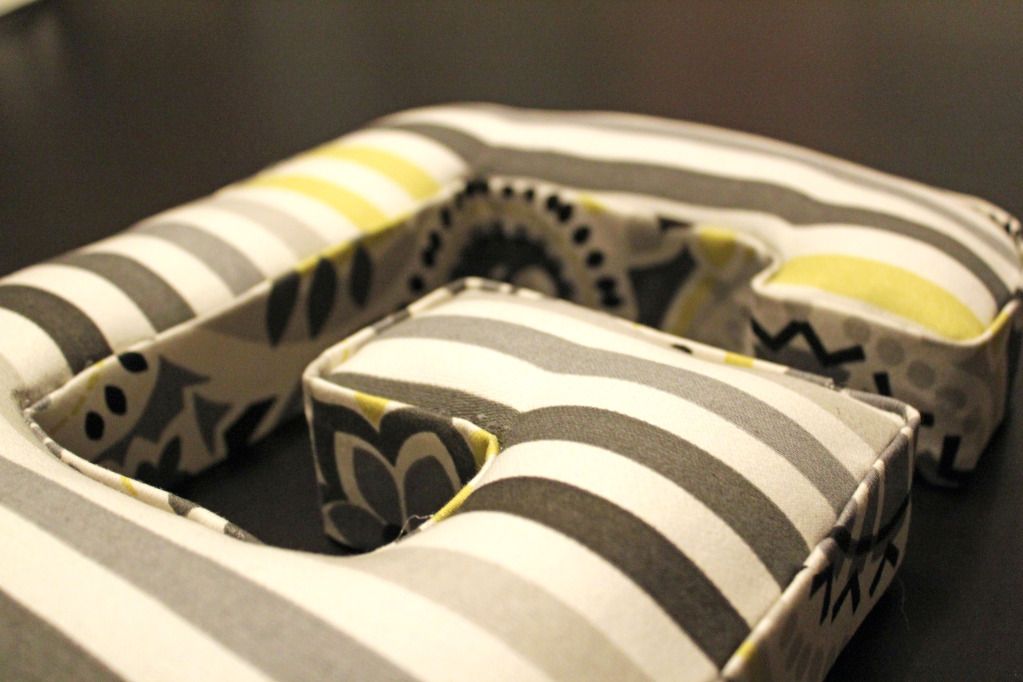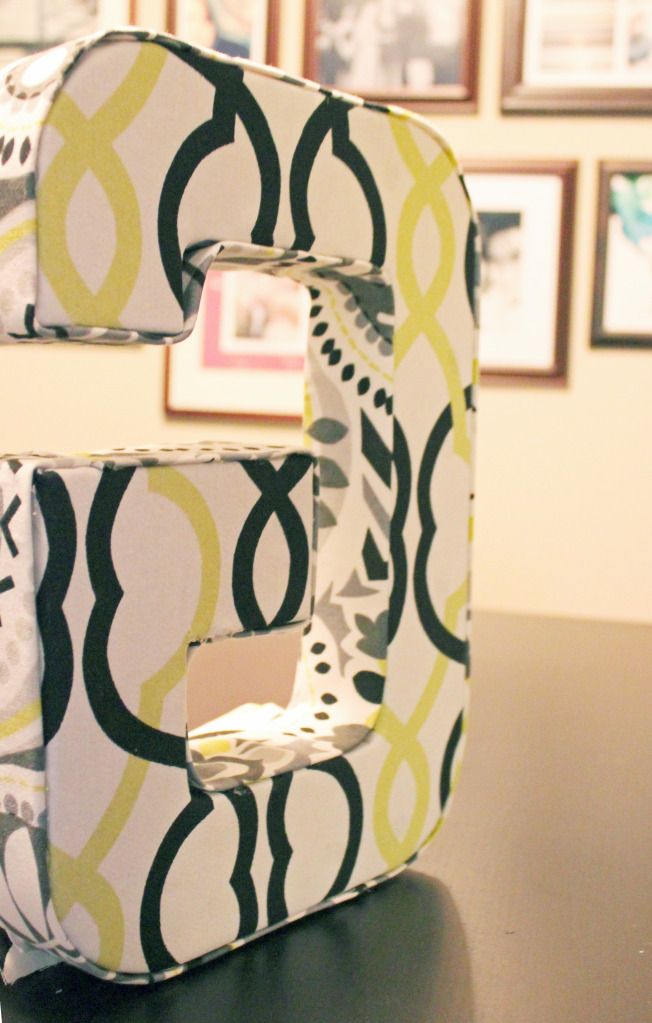 All together my total was around $15 (of course I used my Joann's coupons. If you have a smart phone - get the app! It's sooooo handy! The coupons are ON YOUR PHONE. People, this is huge.). The total is just for the fabric and letter since I had everything else already. I was bummed that I couldn't make it for less - but it's not impossible! A smaller letter is cheaper, and you can definitely use fabric you already have if you have a nice stash. Either way - I really love that I could customize it to fit my decor. I adore the way it turned out and can't wait to find a place to put it!
If you've made your own - show me! I've also seen a lot of cute ways to display the Anthro one's - show me your creative display if you've done it! Hopefully you're loving these letters as much as I am.