Don't be scared away by the title. You won't be seeing me in my bright pink bikini sipping a minty mojito on a tropical island. It's really about extreme Ikea hacking and some pretty mint paint! Keep reading and delete that mental image for your own sake.
MOVING ON.....
Christmas, New Years, and my anniversary are over. January is kind of a let down in terms of the holiday spirit, isn't it? It's hard to get back in the swing of normal everyday, non-sparkly, no-sugar-cookie-for-breakfast living. Especially with the pressure of new years resolutions, and trying to recreate the routine that was left behind for the holidays. Don't you find it's hard to stay inspired? I just want Christmas to be every other weekend. Is that too much to ask?
On a more positive note, I find myself plenty busy with things to do around my house. There is a whole different level of caring when you actually
own
your house.
We bough a cute townhouse in a cute neighborhood 6 cute months ago (.....). I wish I could make every single room exactly how I want it, right this very minute. But sadly, time and money don't allow for such instant gratification. We live in a three story town house (think: tall and skinny) I am almost 100% focused on the main floor right now which has our kitchen, dining area, and living room. It's where we spend the majority of our time and pretty much the only space our guests see. So it's really important to me to have that space be looking it's best! The list of things I want to do is a mile long. But, I am actually pretty proud of what we have accomplished in the 6 months that we have lived here. Here are a few things I want to get done on the main floor:
Kitchen:
Paint
Create an island
Window treatment
Open Shelving
Build pantry

(75% done)
Living room:
Paint

(paint swatches bought.)

Buy rug

(maybe?)

Hang pictures
Window treatment
Dining room:
Large rug
Recover dining chairs
Find slim hutch type furniture (sofa table?)
I add new things to the list almost daily! It's overwhelming but also so fun. I'm learning patience, budgeting (thanks to the Husband), and definitely improving some of my DIY skills. We've been doing a lot of drywall and mudding lately with our latest project. Guess what it is? More details later!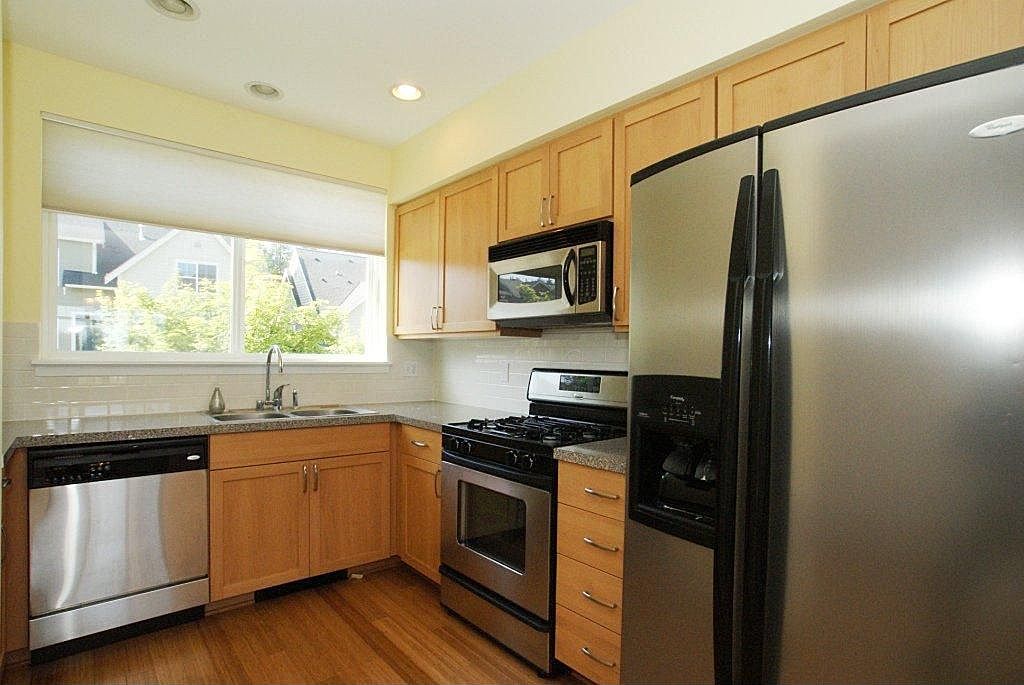 (picture from zillow.com)
The kitchen was a lovely shade of grellow. Sorry, but I hate grellow! Is it green? Is it yellow? No one knows! It photographs a pale yellow, but has much more green to it in person and with different lighting. It had to go. The whole kitchen has amazeballs white subway tile that I die for. I love how it goes midway up the wall. I knew almost right away that I wanted darker walls to really make that tile pop! I painted it dark grey a few weeks after we moved in. More details on that later as well.
BUT, Today is all about my favorite thing about the kitchen (so far). Our island. And to my little blogger horror, I didn't get a good "before" picture. So embarrassing. Let's focus on the positive, and that is that we made an island out of a dresser. If you've been on Pinterest at all, you've seen 'em!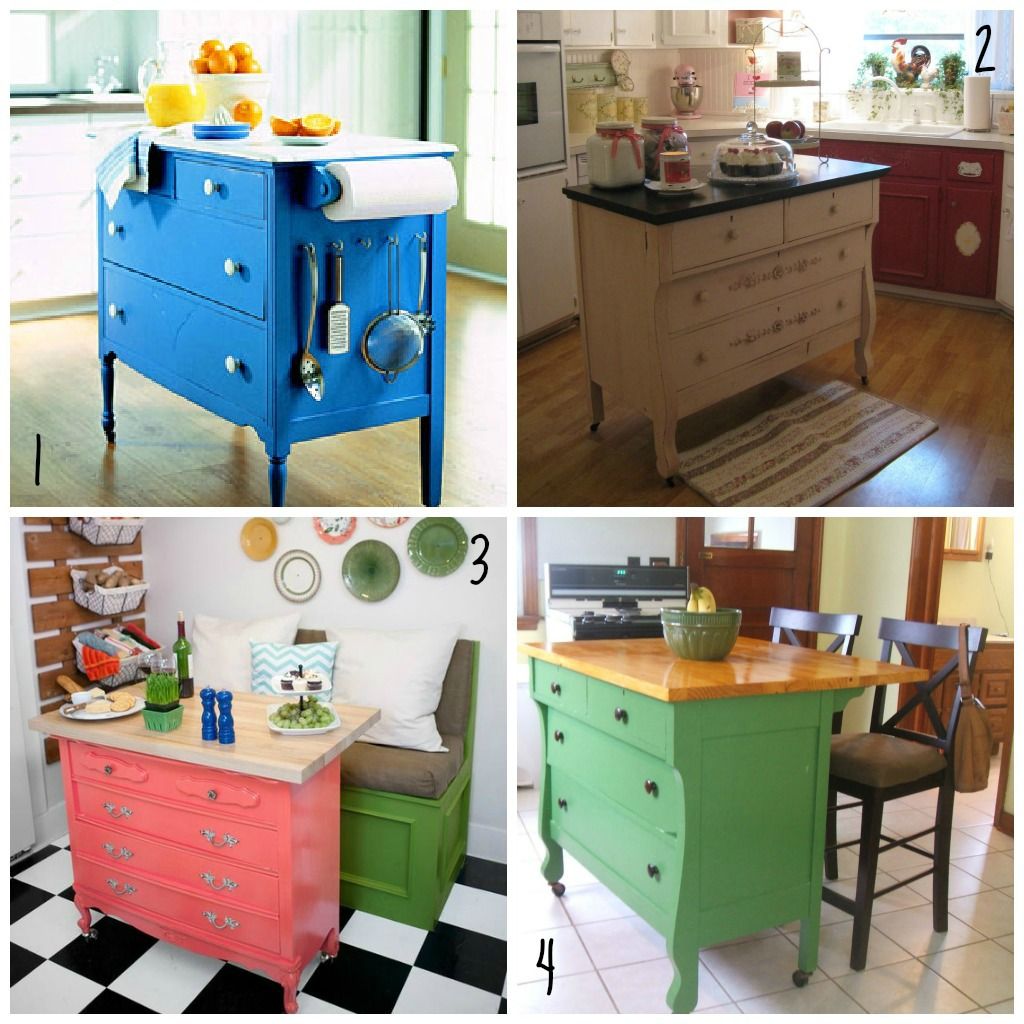 Aren't they all kinds of awesome? I love the creativity and the bright colors. It's bold and a great way to add color and storage to a kitchen.
Our dresser is the Hemnes dresser from Ikea. I love the clean lines of it.
Ours used to be red but they don't sell it anymore (at least not online). The greatest part about it is that it was
such
a steal! It was from my parents and they still don't know it's gone! Just kidding! I'm not that kinda girl. They donated it...
After much discussion, husband
was worn down by his persistent wife
agreed that we could paint ours a pale minty green. Obviously a very popular color this past year and my all-time favorite. Admittedly it isn't as bright at the inspirations - but it's just the right color for us. Because the kitchen walls are so dark, I really wanted something that would be a high contrast. So a pale color really tickled my fancy!
Here is the (kinda) before. You can see how it's just basically not a very useful space before. It was totally asking for something to separate the kitchen from the dining area. It was the perfect solution for an area that just wasn't being utilized.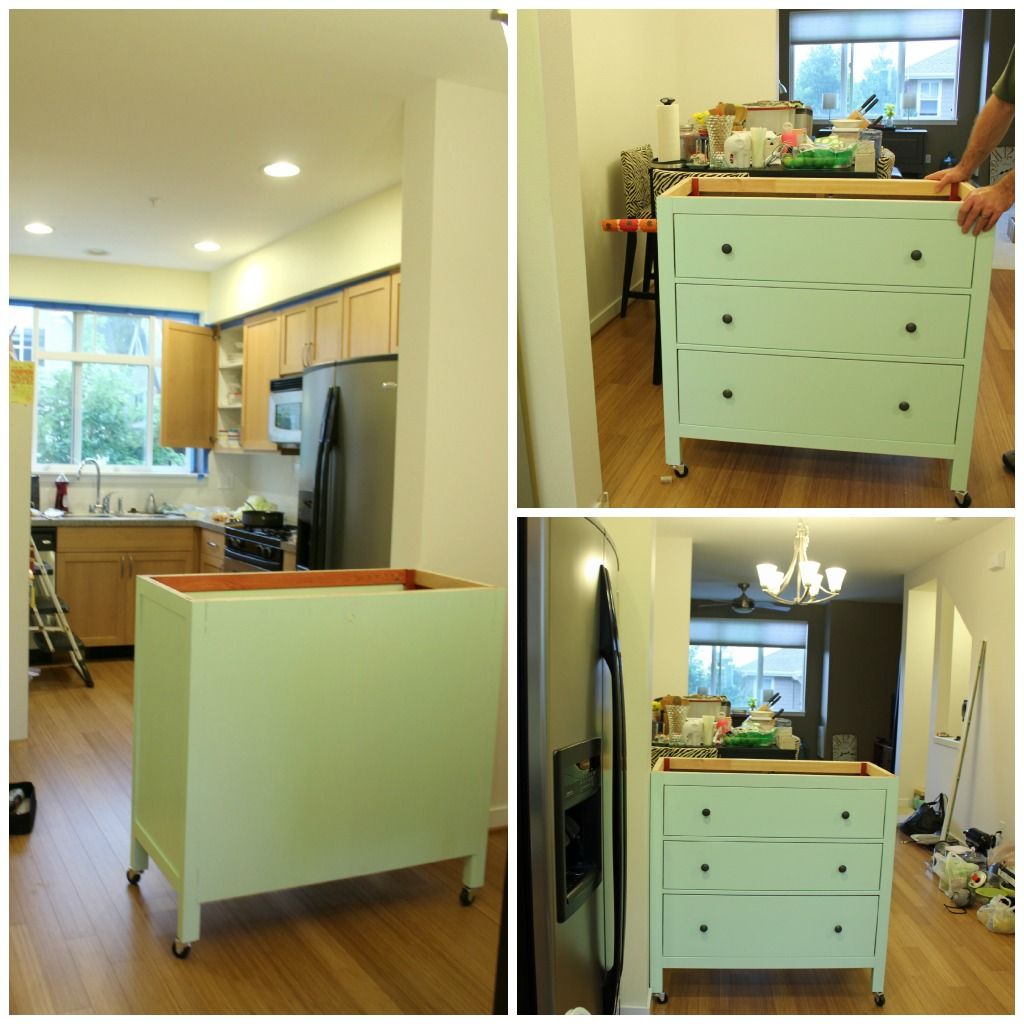 We removed the top of the dresser and added a butcher block for the top. I've always wanted one in my kitchen! I love the lightness it adds, and it's so smooth and glossy you can't help but caress it like a baby's cheek when you see it. Maybe that's just me. We also added castors to the feet to add height to the whole thing. But I also just love how it gives it an industrial look. The idea was
less
Ikea dresser,
more
funky kitchen island.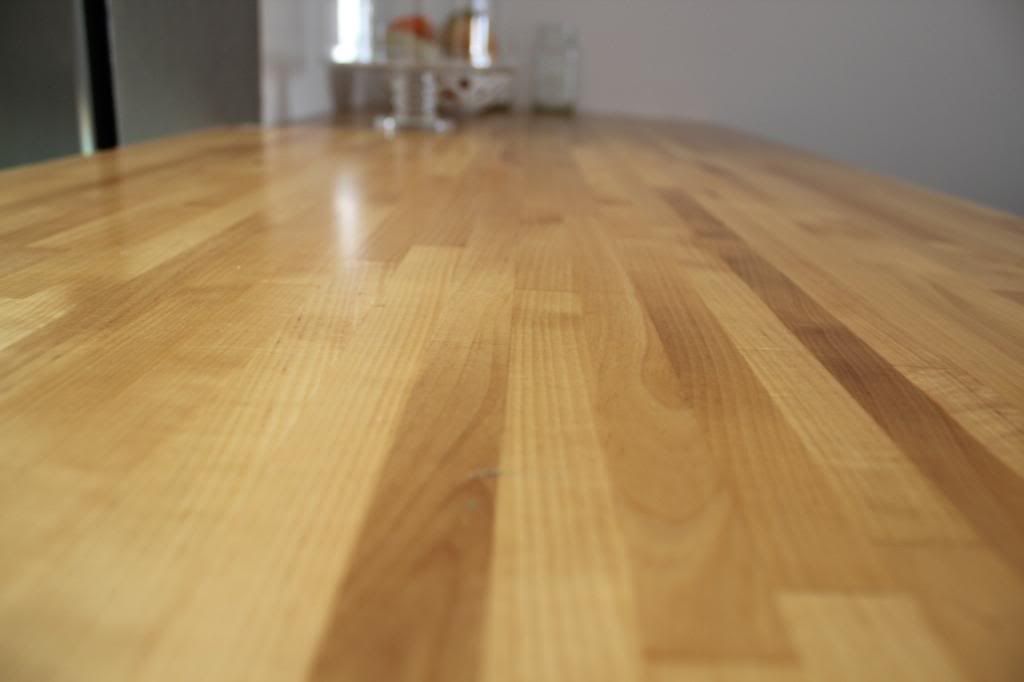 If you've been reading R&S for a while now you know that my dad is handy! I don't mean a little handy, I mean Tim-the-tool-man-Taylor-handy (except my dad got stuck with three girls instead of three boys). I love it about him and have learned so much from him! He made this beautiful butcher block appear one day and had the greatest idea to make it a little longer for a "built in" effect. You can see it in the picture below.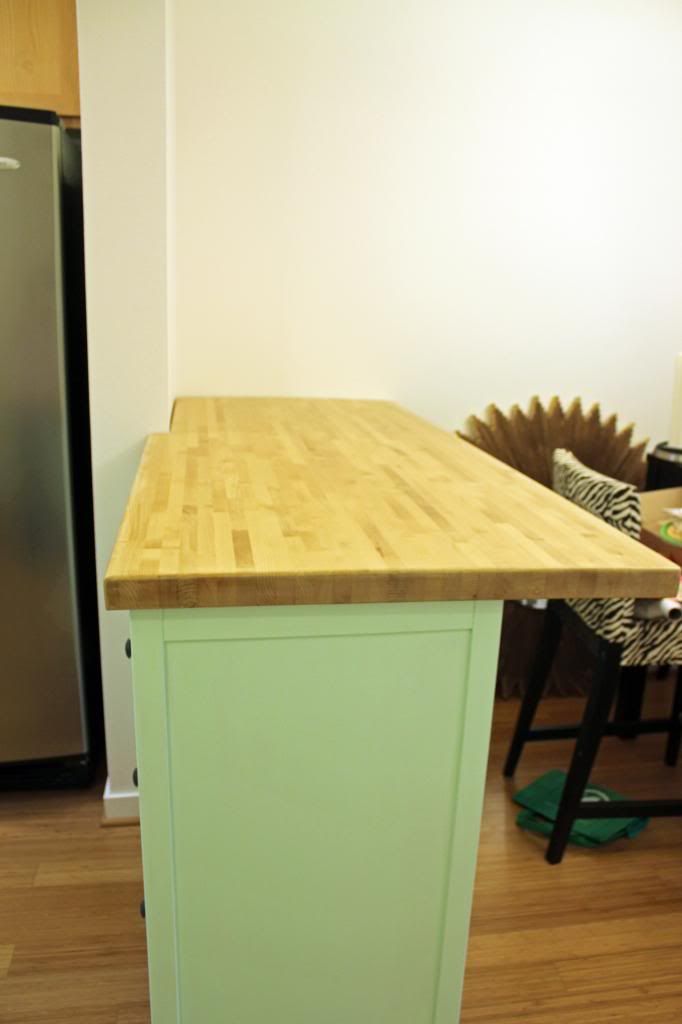 We also decided to extend the "dining room" side of the butcher block to create a bar. We are saving our pennies for just the right stools. Something backless so I can scoot them right under the counter and I definitely have my eye on something metal. Something like
this
, or maybe something with an industrial flare like
these
!
I also think the little space in the corner is screaming for an iMac (right, husband!?) I think it would just be perfection for listening to my T-Swift Pandora station while I craft at the table, or for easy recipe searching! And let's not kid ourselves, some
Pinterest
browsing would most definitely happen.
So there you have it! A dresser turned island! It has added such great, and much needed storage and seating to our little kitchen. Coming up - the "after" pictures of the whole kitchen! Stay tuned!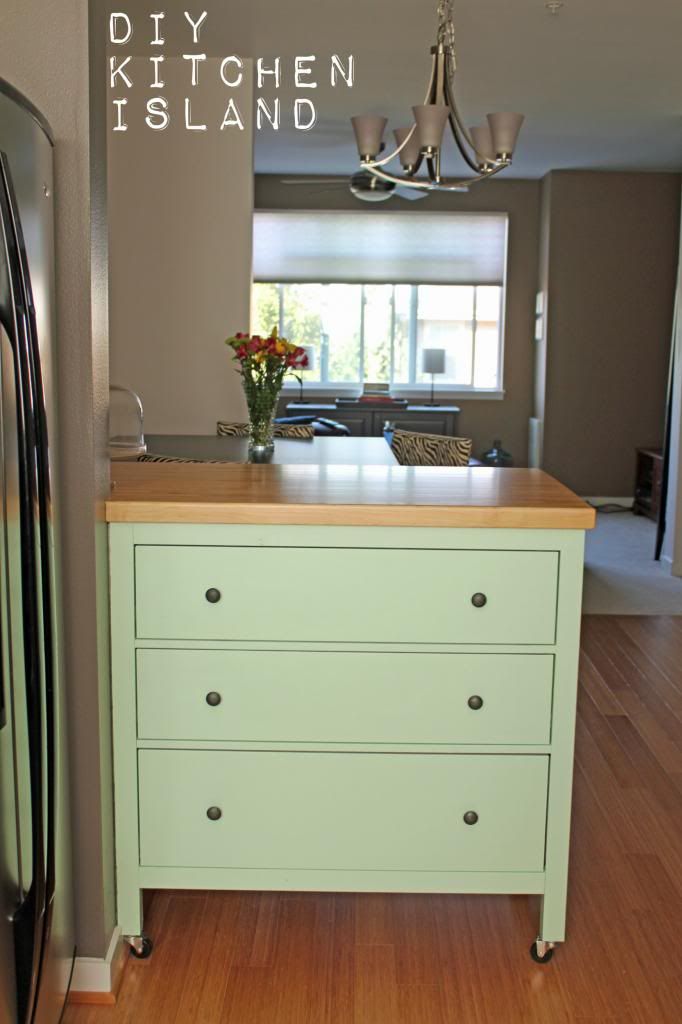 p.s I'm off to meet
John and Sherry of YHL
at the Tacoma Home & Garden show tomorrow! Super excited. I admire their creative DIY skills a lot. I've got my book ready to be signed! Will you be there?