Where we are now - except just a few steps back! Are you confused yet? Let me explain. Before we finished the
pantry
, and after we installed the
minty Island
, I painted the kitchen. And I didn't blog about it. Oops. I will change that right now!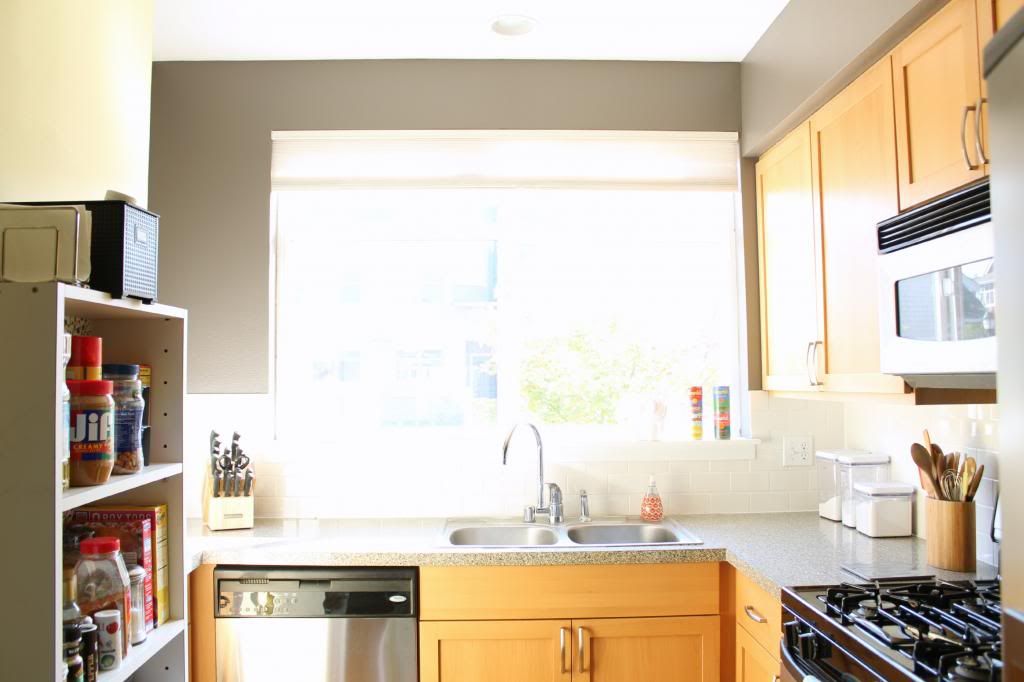 These pictures are all obviously pre-pantry. I'll have to make a fancy completed kitchen post when everything is done!
Like I've said before, I really wasn't a fan of the grellow kitchen walls. They definitely added to the light and airy feel of the kitchen, but it's just not really my style.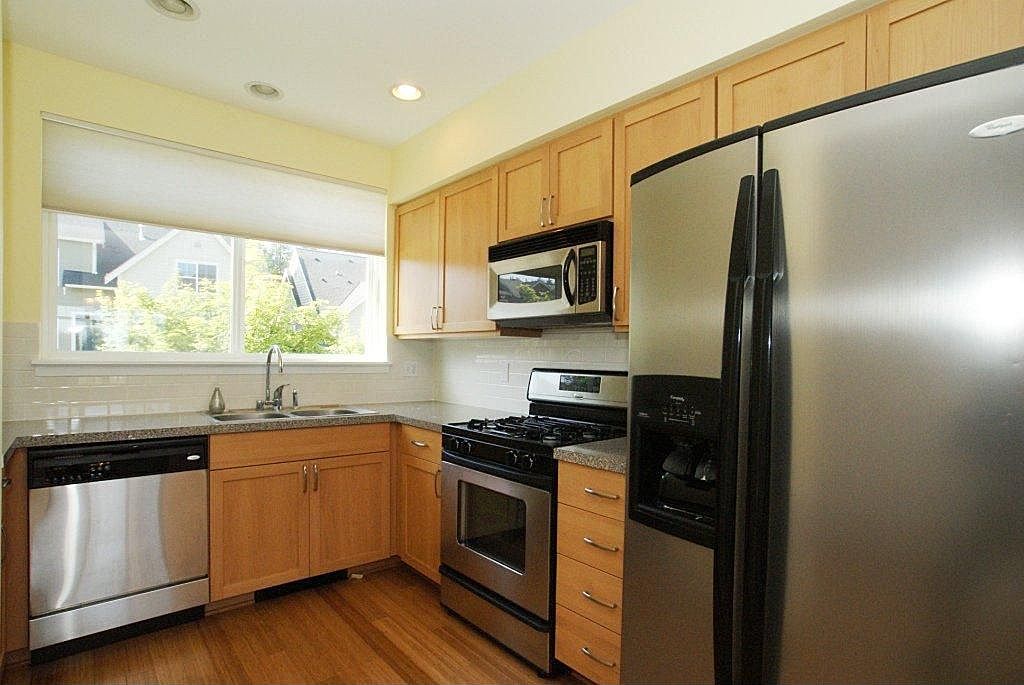 Picture from zillow.com
I knew pretty much right away that I was going to paint it some shade of grey. I have a weakness for gray and white together and I knew I wanted our subway tiles to pop. To me, the only option was dark gray. Oh how I love a good contrast!
The color is "Amazon Stone" by Behr. It's deep and dark and wonderful. The picture above is where our open shelving is going to go. I am dying to get it up there! Obviously it's trendy, all over
Pinterest
, and blogs, and the whole world. But it's a trend that I will gladly participate in!
I was really pleased that the grey that I liked the best matched our counter tops perfectly. I was afraid that they would clash. There is nothing worse then clashing greys! It picks up the dark flecks perfectly. Yay me!
Don't even get me started on how much I love my Mint island against that grey. Major!!! Am I right?! It makes me so happy.
My kitchen is small, and I was a little hesitant about painting it such a dark color lest it make the kitchen feel any smaller! But since the subway tile is so high and there just isn't that much wall space, I was fairly sure it wouldn't affect the feel at all. Luckily, it doesn't! If anything, it just makes it feel fancier. And I'm all about fancy.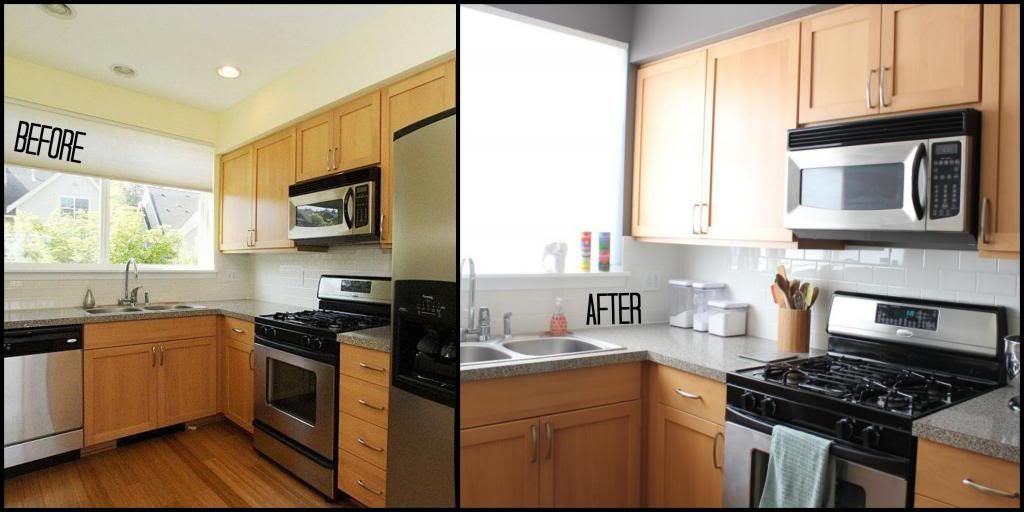 It's not a drastic change, but I'm sure it will look a lot more different once I paint this wall grey also!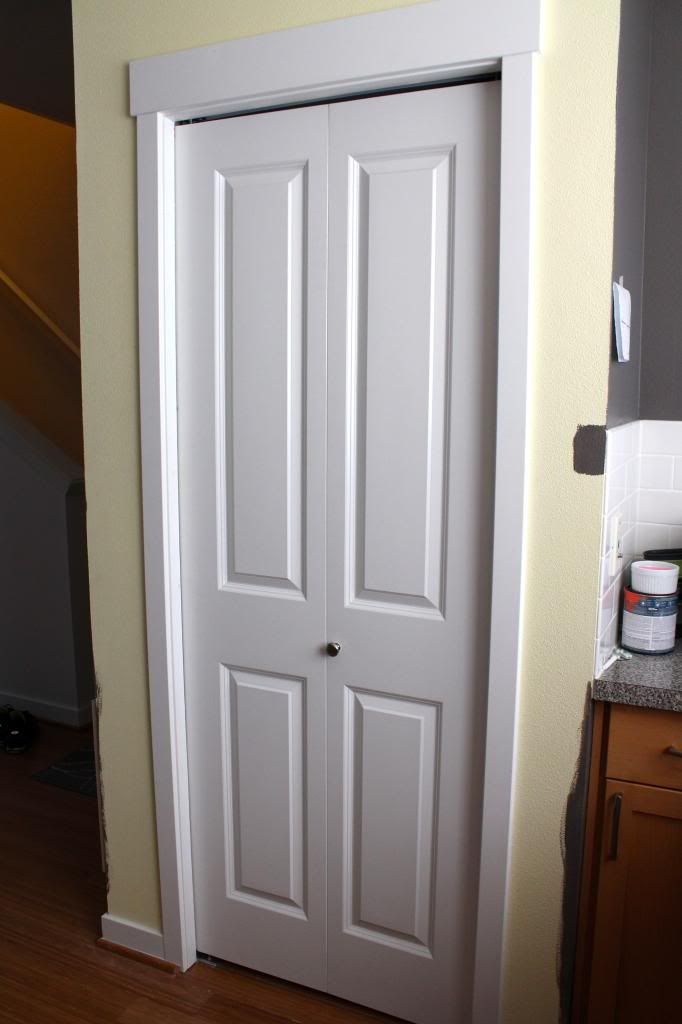 What about you?
Are you as obsessed with grey and white as I am? Do you have a grey kitchen? I know some of you do...I've seen them on Pinterest.