"Pantry Progress" would've been a good title too. Still not 100% finished (but I crossed it off my "to-do" list already. Rebel!) But really, I just need to refresh the white trim and paint the grellow wall grey to match the rest of the kitchen.
Remember where we left off?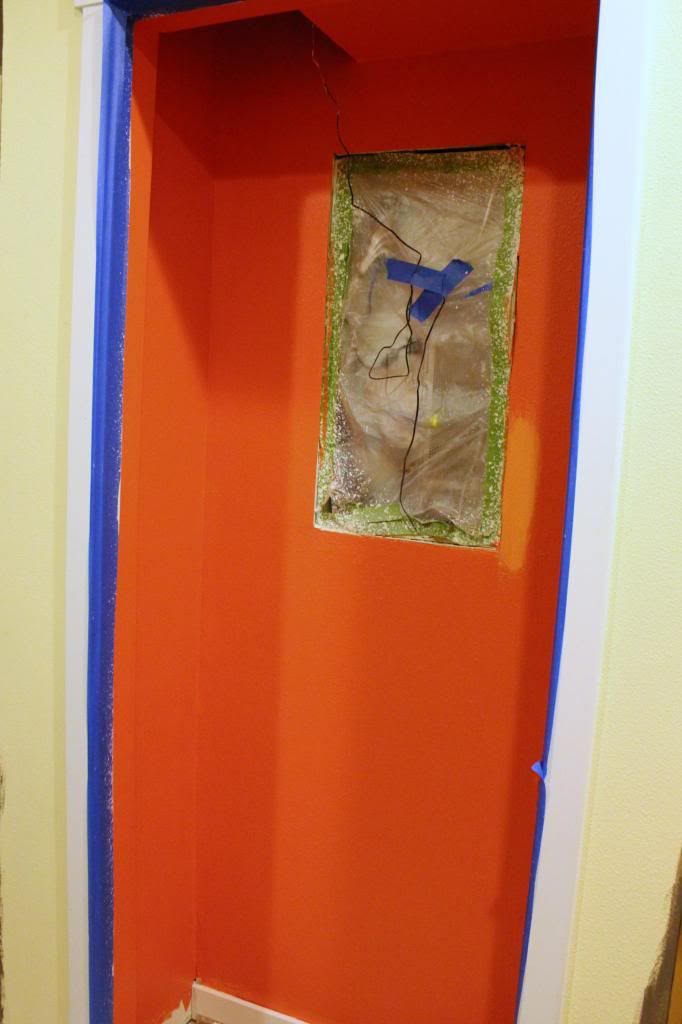 Bad color, no door, and no shelves. It didn't stay that way for long, folks!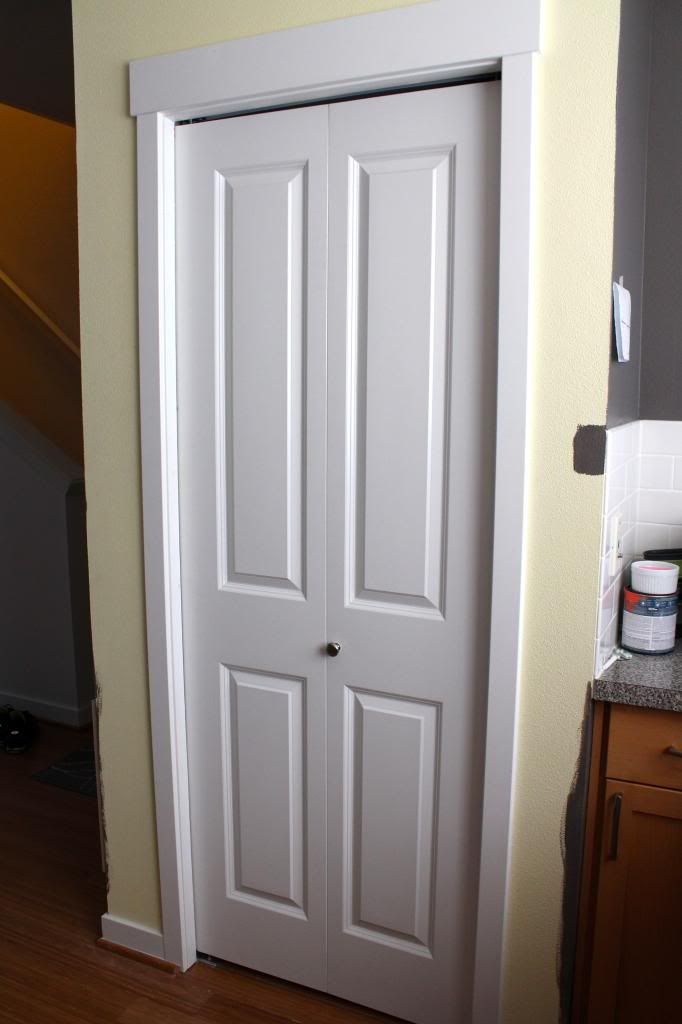 Taa daa! Ah, I just love it to pieces!
I repainted the inside a more peachy orange. I can't remember what it's called - I'll update later! I know it's by Behr.
***UPDATE*** It's called "Autumn Arrival"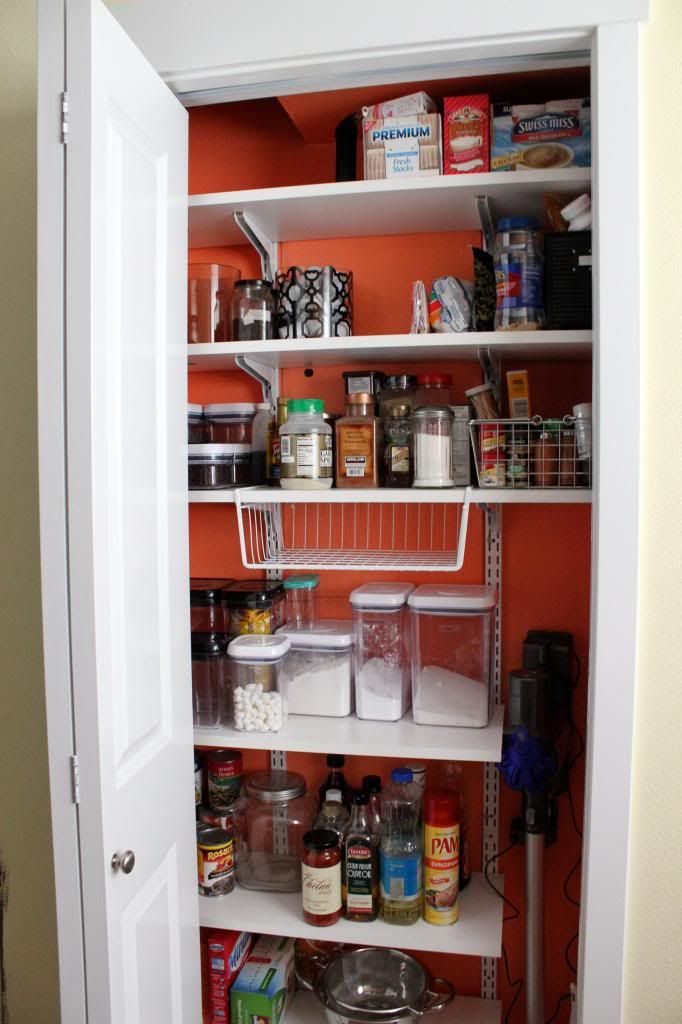 Can we all agree that this is a better color? Ok, thank you for affirming me! It photographs dark - probably because it's in a closet. So it's a bit lighter in person - adding just the right level of cheer that I need when I'm looking for food in the pantry.
As for organizing, I'm still deciding where things go and if I need more baskets and such. Right now, I have all my little things stored in various containers. My spices are in a cute wire basket that I found at Goodwill, and I have Dan's coffee pods in a round glass container that I got at HomeGoods a while back. I just bought that wire rack for under the shelf, and I'm still deciding what would be best in there. I like the idea of bread or other things that I don't want to get squished! I'll have to restock my bread to test it out!
Let's not forget about my OXO containers. I meaaaaaaaaan. Who doesn't love a good OXO container!? Right now they are just labeled with boring clear labels. But I'm working on finding (or making) just the right chalkboard labels for them. I think it would be easier to read, and just cuter in general.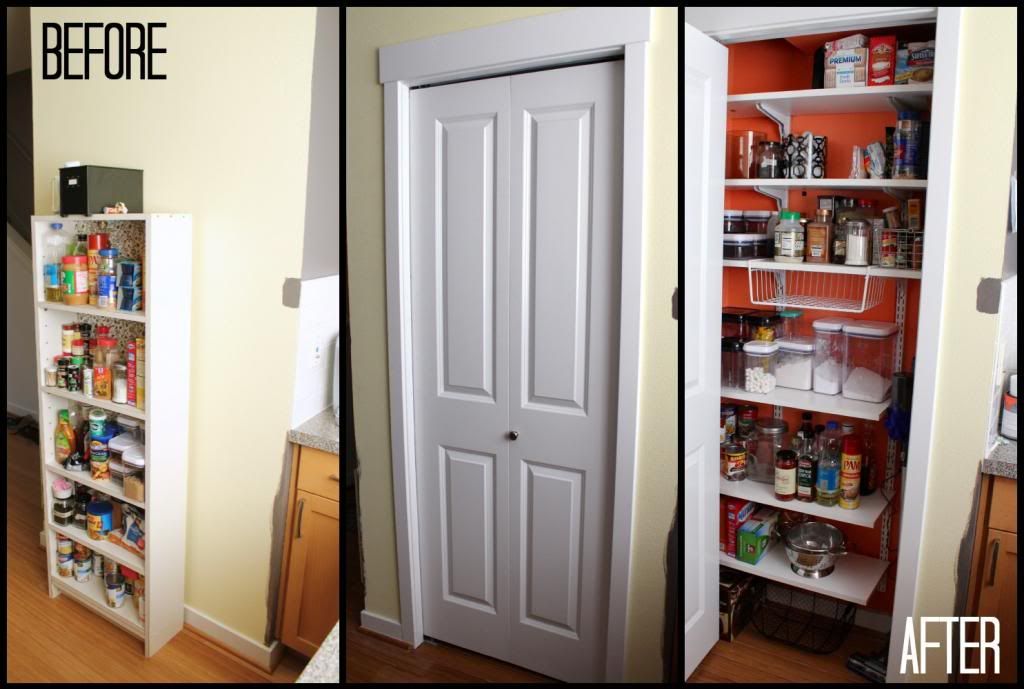 Because we all love a good before and after, right!?
Seriously, this pantry is my best friend.
Annnnnnyways.... remember my house to-do list? It's gotten bigger! Even though I've crossed some things off...weird how that works.
Kitchen:
Paint
Create an island
Window treatment
Open Shelving
Build pantry
Living room:
Paint

(paint swatches bought. Deciding between 4 shades of grey! Why is it so hard!?)

Buy rug

(maybe?)

Hang pictures
Window treatment
Entertainment center fix-up

(I've got an awkward space and zero ideas on how to use it. I'll whine about it in another post.)
Dining room:
Large rug
Recover dining chairs
Find slim "hutch" type furniture

(maybe sofa table?)
Entry Way: