When we moved into our house 8 months ago, I knew I needed to do something about the storage in the kitchen. It was an issue! When we were house hunting I had a list of things there were a definite must. Along with a nice living area and three bedrooms, a pantry was pretty high on my list. Most of the old houses we had looked at had pantries, but the majority of the newer ones didn't. What up with that (
SNL anyone
)? When we found this house we pretty much fell in love...even without a pantry. Luckily, I put on my DIY glasses and could envision some easy ways to add storage. Like
this
! Remember my island?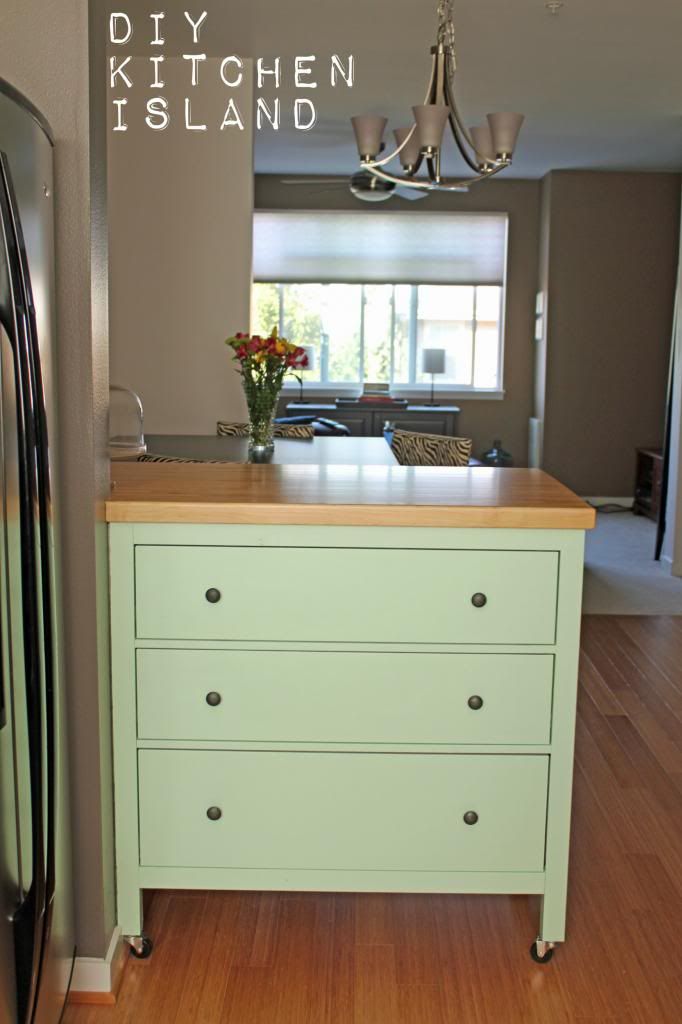 That added a whole bunch of storage! I keep some baking supplies (cake decorating stuff, sprinkles, cake mix, cupcake papers...) in the bottom drawer, tupperware in the middle, and some utensils (serving spoons and forks, spatulas...) This puppy holds a lot. It's easily accessible and I love love love having it.
We put this narrow books shelf against the random, big, empty space and have used it for our pantry for the last 7 months. It worked great for the time being, but we knew that it wasn't a permanent solution! We thought about just getting a cute bookshelf and adding doors (probably from Ikea), but really it just took up too much space. Our kitchen is a good size, but we wanted to utilize the space that we had.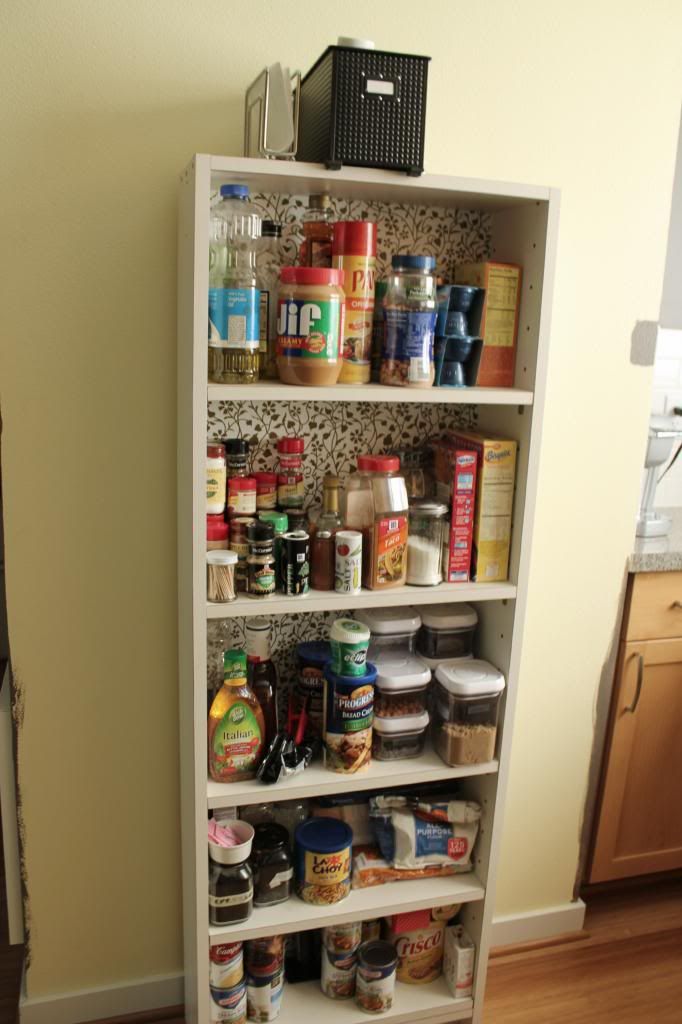 Plus...it's not cute. And I'm all about cute, people.
We decided pretty early on that we could probably flip the "closet" (it's really a broom closet. Too narrow for hangers) that was directly on the other side of the wall with the pantry. Something that presented a problem was a panel with internet stuff and a lot of wires (I'm obviously really techie!) in the closet, but upon further review (aka my Dad took a look) we decided that we could flip that also.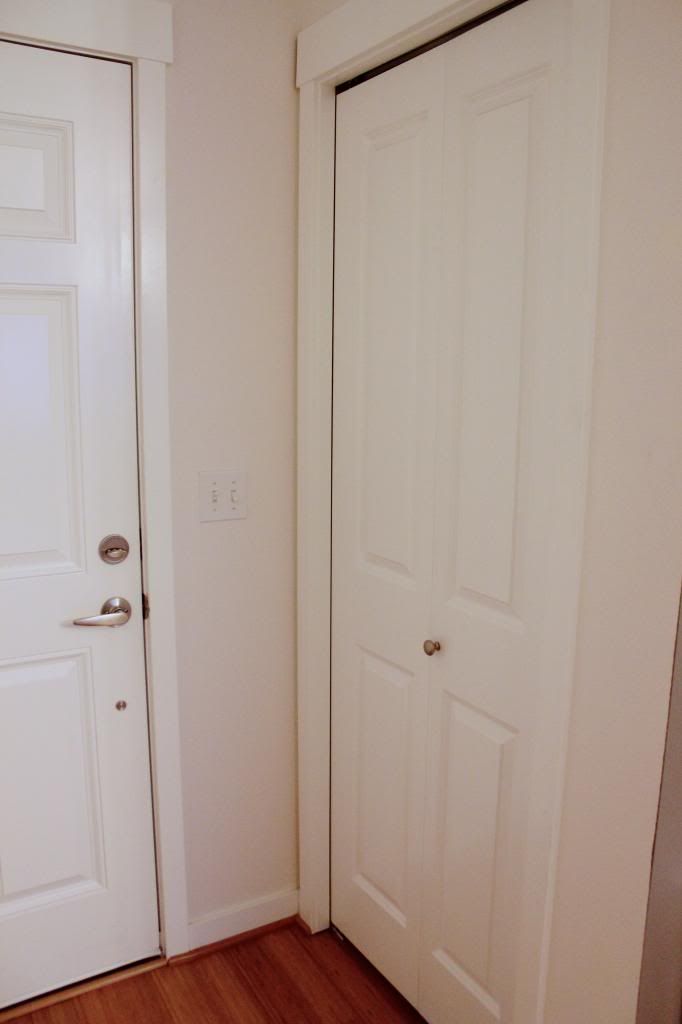 I'm not even going to try to give you a tutorial on this whole process and I'm very sorry for that. But the fact is it was over my head and my Dad helped us with most of it! I'll let the pictures tell the story.
We tore that sucker down and patched it back up. It was definintely as easy as I'm making it sound! (not.)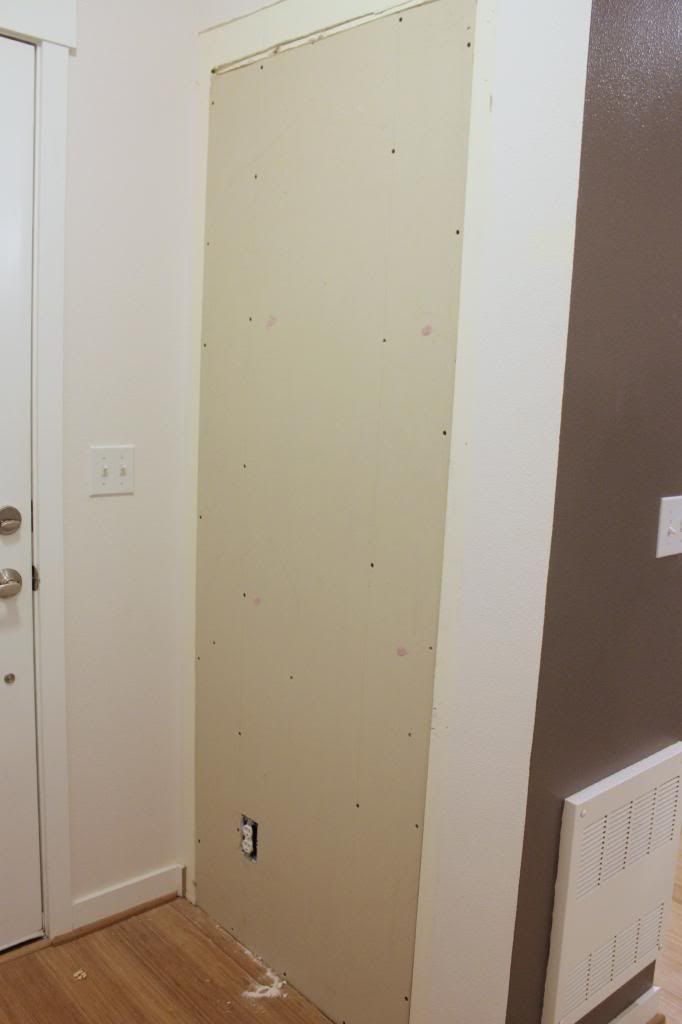 Taa daa! Patched, textured, and not yet painted. Final pictures to come!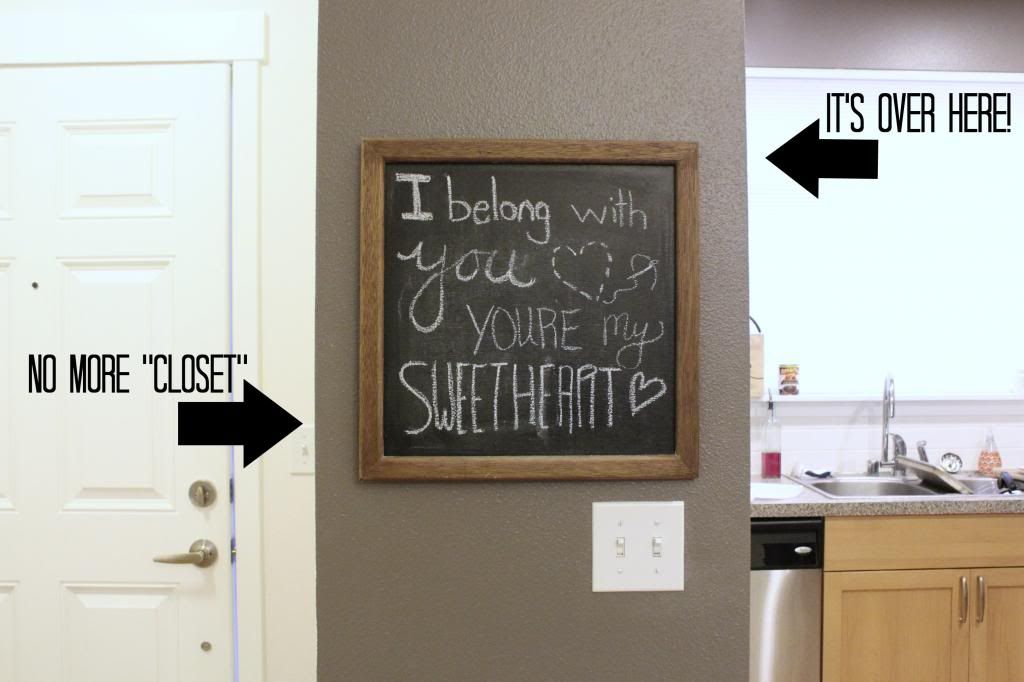 See? We just swapped it.
Now, for the pantry side. Here is what it looked liked after we got the other side sealed up, and the internet panel turned around.
I just
had
to use this picture because Dan took it. He documented this part of the process since I was gone that particular day. Aww what a good husband! He knew I'd want to blog this sucker. All his pictures are mostly ceiling and I find that adorbs. Typical man.
Look at all those wires. Too complicated and messy for me!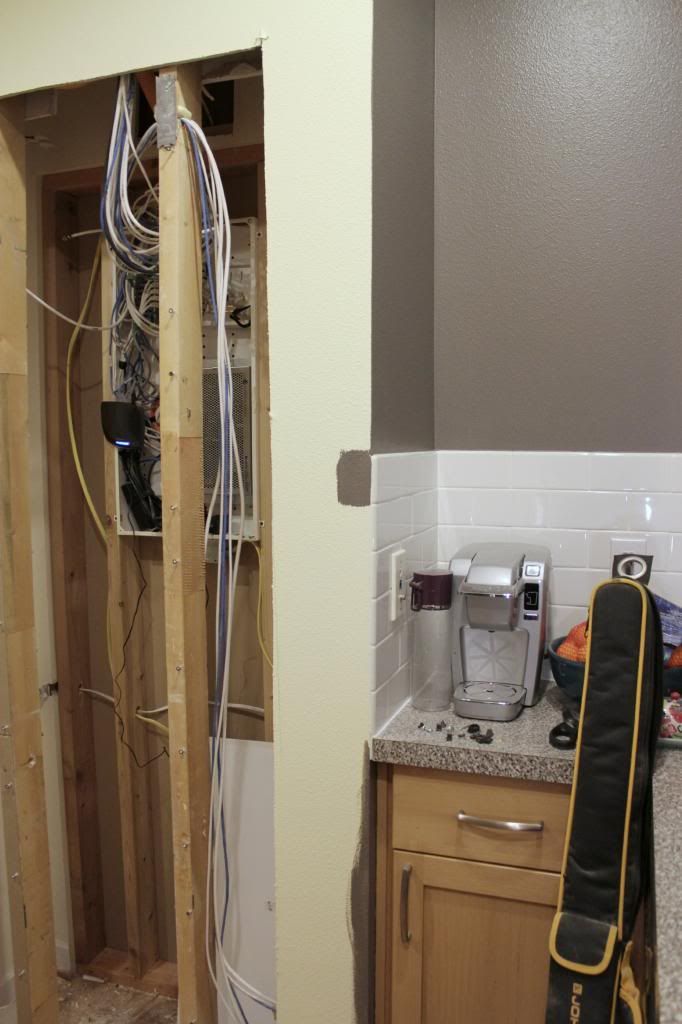 Dry walled and framed out...
Few coats of mud...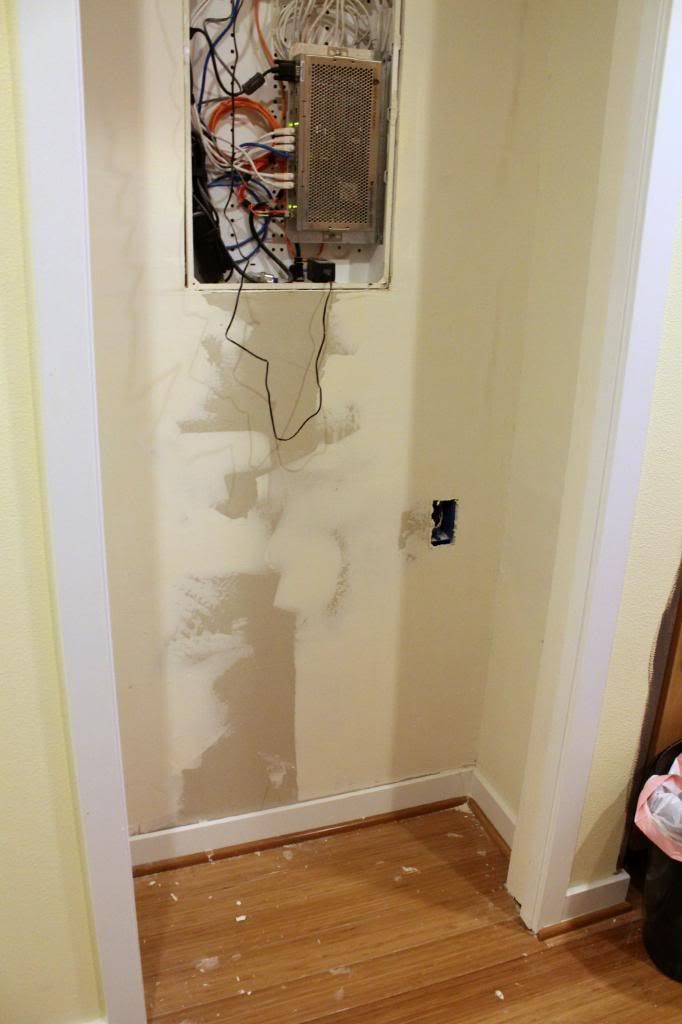 Primed...
Painted a bright color that I hate and painted over...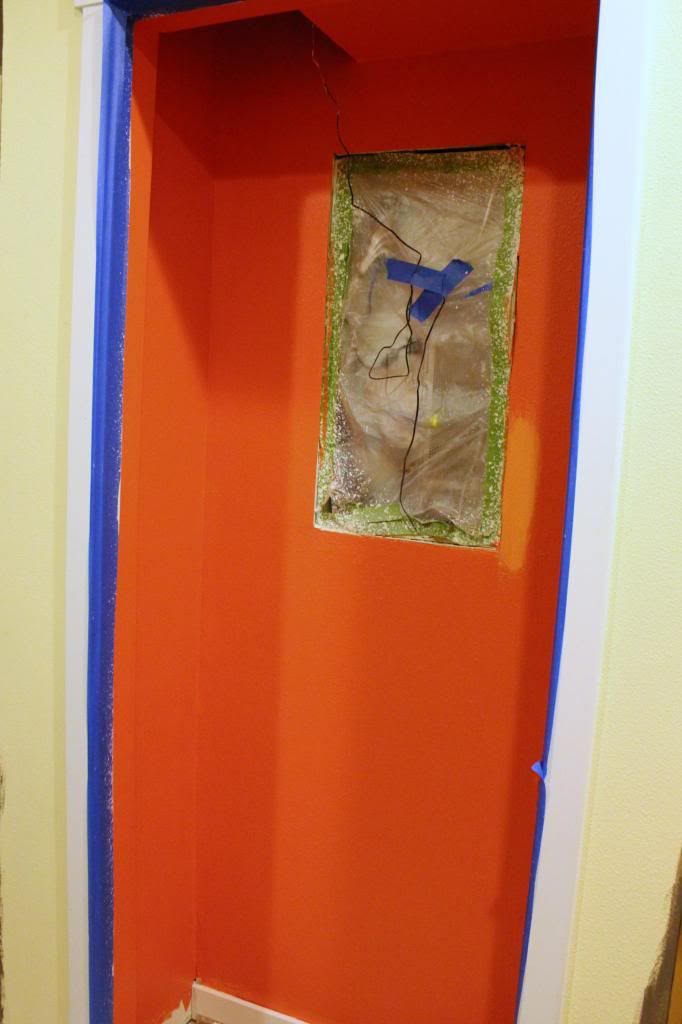 I wanted the inside to be a bright and fun color. So I chose Behr "Wet Coral" - and while it isn't as orange in person as it is in that picture, it was still a little too orange and not enough coral for me. So I repainted that guy right away. Pictures of that later.
Having a pantry has literally changed my life. I would give my pantry the final rose. Either that's too dramatic or I've been watching too many episodes of The Bachelor. Those are the only two options.
Still on the To-Do list:
-Paint the wall around the Pantry grey (to match the rest of the kitchen)
-Paint trim white
-Put up shelving
-Hang door
Stay tuned for the final pictures!