Wow, do Thursdays come around fast or is it just me? It's that time again! Insta-nine Thursday! On Thursday! Imagine that. I've been loving this series because it "forces" me to take more pictures of my day. Now, I'm sure some of you need no help with that, but I've found that it's helped me to keep my eyes open for those perfect little moments to capture.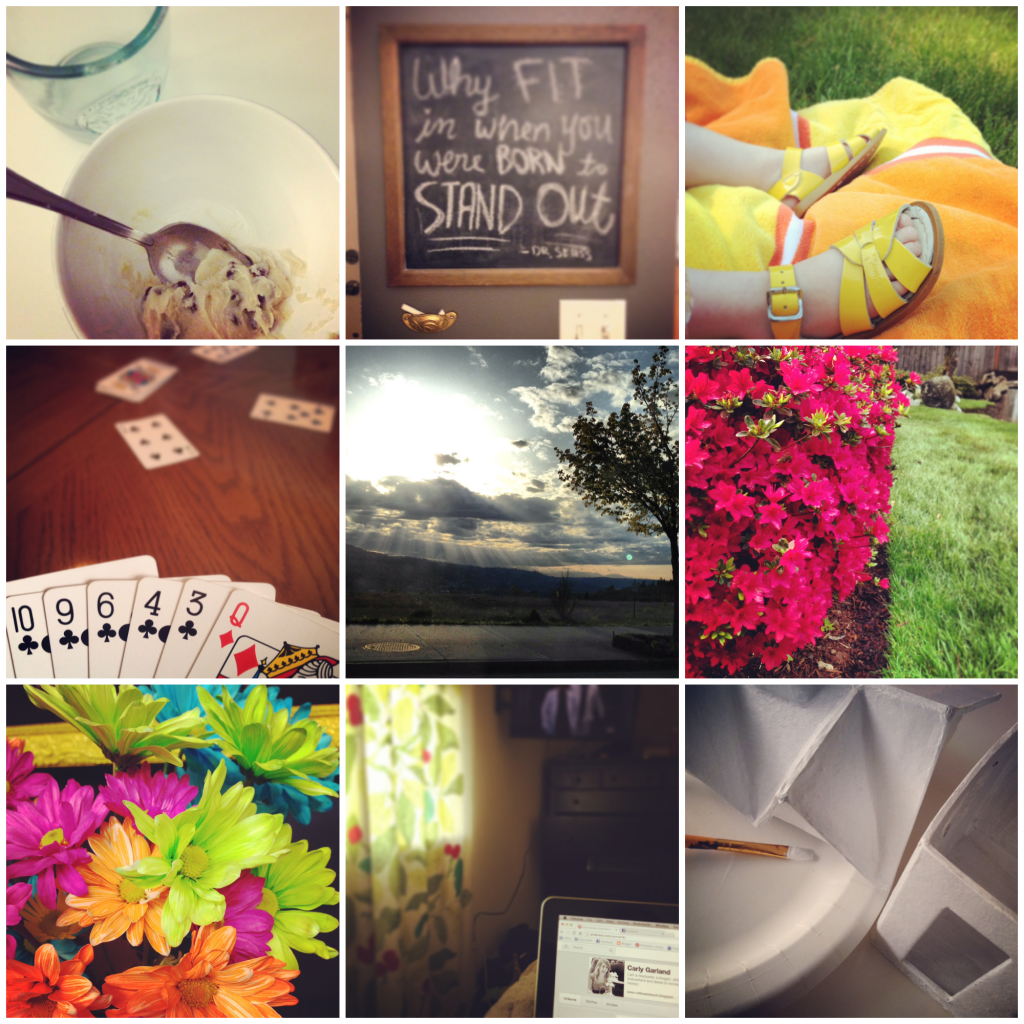 1. That late night sugar craving hit and
of course
I had zero sweet things in my house. So I whipped up
this
recipe. It was the perfect little bit of raw (eggless) cookie dough that I was craving! Yum yum.
2. I've been wanting to store my chalk right by my chalk board but was at a loss on how to do that. I recently saw
this
over at
Dimples and Tangles
(cute blog!) and knew I found my solution.
Hobby Lobby
to the rescue! It's a drawer pull turned upside down. How genius is that? It was originally brown - I gave it a quick coat of gold and taa daa!
3. Bright Yellow saltwater sandals. Tiny toes! Cute girl. Picnic. Fun day in the sun!
4. Playing cards with the family. Anyone played "Wizard"? It's fun and makes me all nervous that I'm going to make a bad decision. I get way too involved. But it's fun! I lost.
5
. "

O

Lord

, our Lord,

how majestic is your

name in all the earth!
You have set your
g
lory above the heavens."
6. Pretty lowers in my Mom's front yard. Spring is here!
7. Surprise flowers for my office! From my Mama (Mom and flowers is a theme!)
8. I took a few hours off on Monday and I needed it so badly. This was the view from where I sat. Tv, Pinterest, bed, rest. Perfection.
9. Craft time! Working on this right now. It's for the
Pinterest Challenge
! Check back Wednesday to see the results.
Hope you are stopping to see and capture the beauty everywhere! But I also hope that you aren't spending life with your face in your iPhone. It's hard to find the balance but I hope you all are mindful of it...I know I am working on it!
Update: I decided this needs a close up.